'Airstrikes' & clashes: Libya's Haftar forces claim control of Tripoli airport as rivals 'bomb' them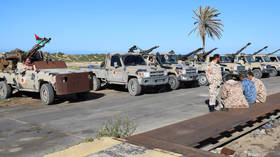 Libyan strongman Khalifa Haftar's forces say they have taken full control over the former Tripoli International Airport, 34km from the city. It comes amid reports that the UN-backed government used airstrikes against his troops.
Haftar ordered his Libyan National Army (LNA) to advance on Tripoli on Thursday, following years of rivalry with the UN-recognized government. His stated goal is to free the city from "militias and terrorists" who are maintaining their grip. The 75-year-old commander has managed to take over some areas around the city, and after some back-and-forth fighting the day before, his troops were filmed driving through the largely defunct Tripoli International Airport on Saturday.
Meanwhile, several reports from local officials said forces loyal to the government in Tripoli launched air raids on two separate positions of Haftar's troops.
#Libya Air Force conducts airstrikes on a military a camp in Mizda town in Nafusa Mountains occupied by eastern armed groups attacking the capital and another location for the eastern groups in Sog Al-Khmies Emsihel region in southern Tripoli. pic.twitter.com/AUw7SdfrD3

— The Libya Observer (@Lyobserver) April 6, 2019
A report by local channel Al-Hadath claimed that four civilians were killed when their house was hit by an airstrike. While there was no immediate confirmation of any losses incurred by Haftar as a result of the strikes, the reports were enough to cause concerns internationally. Moscow has called for a cessation of strikes in the escalating conflict, and for its sides to sit down for talks.
At least 14 LNA soldiers have been killed in the ongoing clashes, yet airstrikes from the Tripoli-based forces have inflicted no damage on Haftar's troops, LNA Brigadier General Ahmed al-Mismari said on Saturday. He insisted that, while Tripoli actively uses warplanes for "airstrikes and reconnaissance," LNA "avoids" the use of aviation against enemy forces, to minimize collateral damage.
Libya has remained split between various power groups ever since a NATO-backed uprising toppled the government of Colonel Muammar Gaddafi in 2011. Various tribal militias, criminal gangs and other paramilitaries have grabbed power in vast parts of the country. Haftar, who is based in the eastern coastal city of Tobruk, is one of the major players, and his troops claim to control most of Libya. The UN-backed government controlled around seven percent of the country at the time his offensive began on Tuesday.
Responding to reports of the airstrikes, the LNA said it was declaring a no-fly zone for military aircraft in the east of Libya, Al Arabia reported. It said it would conduct strikes on airbases, from which their opponents would try to launch further sorties.
Also on rt.com
Libyan strongman Haftar orders troops to move on Tripoli
The worrisome development was discussed on Friday by the UN Security Council, which called on the LNA to halt its maneuvers and refrain from further military action. A similar statement came from the G7 foreign ministers, who interrupted an annual meeting in France to respond to the Libyan clashes.
Germany said that the G7 has agreed to exert pressure on those responsible for the escalation, and Haftar in particular. Italy warned that if the offensive doesn't stop, the international community "will see what can be done."
A G7 communique said that "we recall that Libya's oil facilities, production, and revenues belong to the Libyan people, and must not be used by any party for political gain."
Russian Foreign Minister Sergey Lavrov on Saturday called on all sides in the conflict to refrain from using military force, including warplanes, and seek a peaceful resolution of their differences. "We have been sending the same signal to all political forces in Libya. We never tried to favor either of them," he said after meeting his Egyptian counterpart in Cairo.
Think your friends would be interested? Share this story!
You can share this story on social media: