Libyan strongman Haftar orders troops to move on Tripoli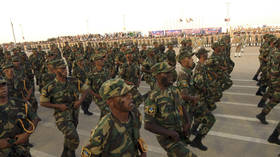 Eastern Libyan commander Khalifa Haftar has ordered his troops to move on the capital Tripoli, seat of the UN-backed government of Prime Minister Fayez al-Sarraj.
In an audio address broadcast to his troops and published on Facebook, Haftar ordered all army units to "advance to Tripoli," and free the capital from "militias and terrorists." The Thursday address came hours after Haftar's forces captured the town of Gharyan, 100km south of the capital.
Haftar also vowed to protect foreigners, civilians and those surrendering to his troops, promising to ensure their "safety and security."
Drone-filmed footage shows scores of Haftar's Libyan National Army (NLA) vehicles en route to the capital, most of them machine-gun-armed 'technicals.'
The LNA has moved west towards Tripoli this week, skirmishing with "illegal" armed groups along the way, LNA spokesman Ahmed Mismari told al-Arabiya TV on Wednesday. Al-Sarraj has, meanwhile, mobilized his own forces and instructed them to "confront any threats aiming at disturbing the peace in any part of the country."
Libyan news websites published documents signed by Al-Siraj, in which he ordered his forces to "raise the maximum readiness and re-stationing of the units" as well as "carry out air strikes and use force to confront all those threatening the lives of civilians and vital facilities."
With UN-sponsored peace talks scheduled for this month, both sides have been struggling to gain the upper hand in advance. UN Secretary-General Antonio Gutteres, currently in Tripoli, appealed earlier for both sides to exercise restraint.
Al-Sarraj's warning against "disturbing the peace" implies that there is some semblance of peace to disturb. On the contrary, Libya has descended into chaos since NATO began bombing the country in March 2011, in support of Islamist rebels. After former leader Colonel Muammar Gaddafi was murdered in October of that year, Libya spiralled into full-blown civil war and humanitarian catastrophe, marked by the prevalence of open-air slave markets trafficking migrants from sub-saharan Africa and the surge of terrorism, including actions by Islamic State (IS, formerly ISIS/ISIL).
Power was eventually split between al-Sarraj's government in Tripoli and Haftar's LNA in Tobruk, with lawless patches of desert to the south controlled by nomadic tribes, militias and criminals. The LNA subsequently expanded its influence to Benghazi and beyond, and now controls around two thirds of the country. The Tripoli government controls roughly seven percent of Libyan territory.
Before the NATO bombing campaign of 2011, Libya once had the highest Human Development Index in the whole of Africa, with Gaddafi holding the nation's factions together with a deft combination of investments, political brokering, and strategic repression. Whoever takes power after the upcoming peace talks also takes control of the continent's largest oil reserves.
Haftar has vowed to be that leader, telling Arabic newspaper Ashraq al-Awsat on Monday that "Libyans will have a single cabinet this month." Others are not so sure.
"The Libya that we knew before is gone. It's gone," Libyan Political adviser Mohamed Buisier told Al-Jazeera late last year. "All what we see in front of us, the scene now, it's at the end, it's taking us to disintegration. Nothing is bringing the country back to unity, and every day we are closer to this final scene."
Subscribe to RT newsletter to get stories the mainstream media won't tell you.
You can share this story on social media: