Pompeo urges France not to tax American tech firms as competition with China heats up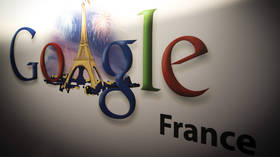 US Secretary of State Mike Pompeo has urged his French counterpart not to slap a digital services tax on US tech companies. The warning comes as the US and China compete for technological dominance in Europe.
"Secretary Pompeo urged France not to approve a digital services tax, which would negatively impact large US technology firms and the French citizens who use them," the State Department said after Pompeo met French Foreign Minister Jean-Yves Le Drian at a NATO summit in Washington on Thursday.
Also on rt.com
Italian embrace of China's new Silk Road meets abrasive transatlantic double standards
The proposed tax would target the largest US tech giants, amid public outcry over the minimal corporate taxes many of these firms pay in Europe. Draft legislation unveiled last month would slap a three percent tax on digital advertising, the sale of personal data and other revenue from any technology company that earns more than €750 million ($841 million) each year.
Washington's strong-armed defense of American tech firms is one battle in the wider war for tech dominance worldwide. Chinese President Xi Jinping visited France late last month to ink a series of trade deals with French President Emmanuel Macron, as France weighed up allowing Chinese tech firm Huawei to participate in its rollout of 5G networks.
Pompeo has warned that the world should have its "eyes wide open" about the risks of using Chinese technology, which America's intelligence agencies say facilitates Chinese state spying.
In Europe, the reaction has been mixed. The French Parliament debated a bill on Wednesday that did not explicitly name Huawei, but would require providers to hand over equipment for testing in order to be eligible for lucrative 5G contracts. Britain, too, has taken a tough stance on Huawei, pushing the firm to open itself up to audits by intelligence agency GCHQ, while Poland has outright banned Huawei from building its 5G network.
Also on rt.com
Trump sends cybersecurity envoy to Germany as US ratchets up pressure on Huawei
Other countries have ignored America's warnings. German Chancellor Angela Merkel announced last month that her country won't exclude Huawei from the upcoming 5G rollout, and will instead allow telecoms vendors to decide whether or not to partner with the Chinese firm themselves.
Huawei provides one of the best services at a relatively cheap price. Still, Washington has hinted that countries looking to save in the short term could face long-term political punishment for cozying up to China, including the withholding of intelligence.
On a visit to the Philippines last month – itself debating the prospect of using Huawei 5G gear – Pompeo also warned of the "risk that America may not be able to operate in certain environments if there is Huawei technology adjacent to that."
Think your friends would be interested? Share this story!
You can share this story on social media: