Paris Disneyland visitors flee in panic, police deployed as 'false alarm' triggers lockdown (VIDEOS)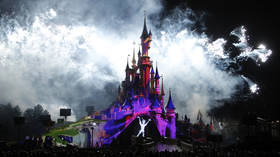 Fears of a potential terrorist attack have put Disneyland Paris on a brief lockdown, with an elite tactical unit of the French National Police deployed to the scene, after a loud bang caused panic across the theme park.
Amid the confusion, visitors were reportedly being advised to take shelter inside restaurants, after panic began to spread near the train station and Disney village. Security forces quickly arrived at the scene, responding to rumors of an attack, to help evacuate visitors.
While authorities are still investigating what exactly happened, reports indicate that confusion spread following a loud noise that was heard coming from an escalator. Apparently the chaos was caused by a false alarm.
Several people were injured in the chaos and stampede, local news reports, adding that firefighters are still on-site, even though the lockdown was quickly lifted and people were being let back in to collect their belongings.
France continues to be on high alert, following a string of terror attacks in recent years, some of which occurred in popular tourist locations. In addition, the French police are working overtime to ensure security amid the statewide Yellow Vest protests, which took place again on Saturday, for the 19th week running.
Also on rt.com
Apart from Champs-Elysees: Yellow Vests hold protests across France despite place bans (VIDEOS)
Think your friends would be interested? Share this story!