Pakistani PM says Indian pilot to be released Friday as peace gesture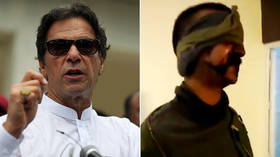 In a parliamentary address, Prime Minister Imran Khan announced that the Indian Air Force pilot shot down and captured over Pakistan will be released tomorrow as a gesture of peace, stressing need for dialogue.
"As a peace gesture we will be releasing him tomorrow," Khan said, adding that "all issues should be resolved through dialogue."
Wing Commander Abhinandan Varthaman's jet was shot down Wednesday in Pakistani airspace while flying over Kashmir, the hot-spot in rising tensions between the rival nations. After ejecting from the aircraft, he was mobbed by angry civilians and had to be rescued by Pakistani soldiers.
Also on rt.com
India is 'standing like a rock to counter evil designs' – PM on tensions with Pakistan
India's Ministry of External Affairs admitted the loss of the aircraft on Wednesday, but announced that a Pakistani warplane had also been taken down. The countries began trading blows after New Delhi launched a strike against suspected terrorist camps in Pakistani territory Tuesday.
India justified the strikes by saying that it was in response to Pakistani-based militants attacking and killing over 40 of its police officers in mid-February.
Pakistan's Foreign Minister Shah Mahmood Qureshi told reporters earlier on Thursday that his government was willing to consider returning the captured airman if his release would help de-escalate the tense situation. "We are ready for all positive engagement," he stressed.
As tensions appear to be far from dying down, Indian Prime Minister Narendra Modi declared that his country is "standing like a rock" to counter what he labeled Pakistan's "evil designs."
While both states have been trading accusations and pinning the blame for the escalation on each other, RT has been told that neither has a real interest in an all-out war.
However, some analysts have predicted that a worst-case scenario could also take place, resulting in the use of nuclear arms.
The prospect of the conflict developing into something more serious might also end up being a major problem for China and the US. As one of Pakistan's major trading partners, China is likely to take a serious hit if the country plunges into chaos. Meanwhile, Washington's ties to both countries have prevented it from taking a side, a position which might in itself jeopardize relations.
Like this story? Share it with a friend!
You can share this story on social media: