Charm offensive? Acting Pentagon chief turns up in Iraq following surprise visit to Afghanistan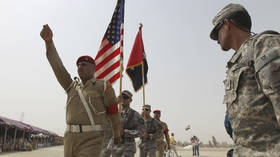 Acting Pentagon chief Pat Shanahan has arrived in Baghdad to consult with Iraqi leaders about the future US troop presence in the country, after Donald Trump was slammed for suggesting American forces would remain to "watch Iran."
Marking his first trip to Iraq, Shanahan will discuss the US military mission in the country with top officials, as well as receive a briefing on Iraq's fight against Islamic State (IS, formerly ISIS/ISIL) remnants, the Associated Press reports.
The acting secretary of defense was in Afghanistan on Monday, where he pushed Kabul to hold peace talks with the Taliban and reportedly assessed the prospects of a potential US military withdrawal. The apparent charm offensive appears to have a different goal in Iraq, however. President Donald Trump previously said US troops may be stationed indefinitely in order to "watch Iran" – a comment that hasn't resonated well in Baghdad.
Iraqi President Barham Salih dismissed Trump's statement, claiming that the US leader never asked for permission to use Iraqi territory to snoop on Iran.
He said that it was wrong for Washington to "pursue [its own] policy priorities" in Iraq, especially since it is in his country's "fundamental interest" to pursue constructive relations with Iran.
The US military, Salih stressed, has only one mandate in Iraq – to help fight terrorism.
Meanwhile, former Iraqi Prime Minister Haider al-Abadi told RT's Sophie Shevardnadze that Washington's stated aim to expand US military objectives in Iraq would be a violation of Iraqi law.
"It's not a job of foreign troops to spy on our neighbors or use Iraq as springboard against our neighbors, this is not allowed in the Iraqi constitution and this is not part of the whole operations," Abadi said.
The former prime minister observed that poor communication between Washington and Baghdad has "poisoned [their] relationship slightly."
Also on rt.com
Trump did not ask permission to 'watch Iran' from bases in Iraq – President Salih
Sixteen years after the US invaded to topple Saddam Hussein and expropriate his non-existent "weapons of mass destruction," 5,200 US troops still remain in Iraq, where they advise and train Iraqi forces.
Shanahan has temporarily taken the reins at the Pentagon after James Mattis resigned over Trump's decision to pull out of Syria. The acting defense secretary isn't the only top US official trying to mend Washington's wobbly relations abroad. Secretary of State Mike Pompeo is currently on a five-day tour of Eastern Europe, in hopes of courting countries that were once "shunned" by the US.
Think your friends would be interested? Share this story!
You can share this story on social media: