HUGE blast in Peru beach club caught on VIDEO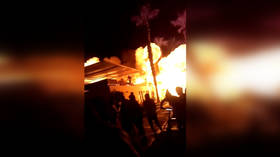 Two gas cylinders exploded on Saturday in Las Palmas beach club in Peru, according to local media. The dramatic video shows people fleeing the scene after a powerful explosion sent plumes of smoke billowing into the sky.
The emergency was reported at 9:17pm by the city's fire department.
The video footages show a fire bursting out in the building of the club followed by a mighty explosion breaking the windows and producing plumes of smoke towering over the rooftop. People are seen to be outside the building rushing out after the blast.
Local authorities reported that there were no seriously injured and the fire has been got under in around 30 minutes.
Like this story? Share it with a friend!
You can share this story on social media: