'Targeted attack': 4 injured, incl Syrians, after man tries to ram car into people in Germany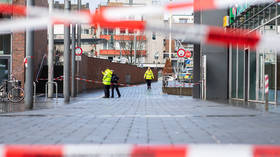 At least four people, including Syrian and Afghan nationals, were injured after a driver tried to ram his car into people on New Year's Eve in Germany. Police say the suspect made "xenophobic" statements during his arrest.
The 50-year-old suspect first started going after pedestrians in his silver Mercedes in the city of Bottrop in west-central Germany shortly after midnight, law enforcement announced on Tuesday. He first tried to drive into a pedestrian who managed to escape, before continuing his hunt and aiming at a crowd of people on a local square.
"At least 4 people, including Syrian and Afghan nationals, were severely injured," the police statement reads. It's not yet clear if the victims were migrants.
In #Bottrop raste der Nazi-Amokfahrer (50) hier am Berliner Platz auf eine Menschenmenge zu, vier Menschen (u.a. aus Syrien und Afghanistan) wurden zum Teil schwer verletzt. pic.twitter.com/xciiG7FZV9

— Andreas Wegener (@Andreas_Wegener) January 1, 2019
The suspect then headed towards the city of Essen, 9km to the south of Bottrop, where he was finally apprehended by police. In Essen, the attacker also tried to plow his vehicle into pedestrians waiting at a bus stop.
During his arrest, he made some "xenophobic remarks," police noted, adding that investigators believe the attack may have been "targeted." Another version being considered is that he may be mentally ill.
Also on rt.com
Young Germans 'mock dying Egyptian student after running her over' – witnesses
Having accepted over 1 million refugees in the wake of the 2015 migration crisis, Germany has witnessed a number of xenophobia-motivated attacks, including on facilities housing refugees. More than 3,500 such assaults were recorded in 2016 alone.
One blood-chilling incident took place in late 2017 when two young men in Germany mocked and racially offended an Egyptian woman as she lay dying on the street after their friend had run her over in a car. The 22-year-old, who came to Germany for her studies, passed away three days later.
Also on rt.com
German police bust far-right terror cell plotting attacks on migrants & 'political enemies'
In October 2018, German police arrested several far-right extremists, foiling high-profile attacks "against foreigners and political enemies" on the anniversary of the 1990 German unification. The authorities believed at the time that they wanted to unite hooligans, skinheads, and neo-Nazis under one umbrella.
Think your friends would be interested? Share this story!
You can share this story on social media: