Android phone facial recognition security 'tricked by 3D printed head'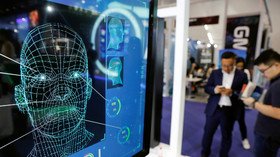 Popular Android smartphones can be broken into by using a 3D printed head to get around facial recognition technology, according to a Forbes report, revealing its limitations as a security measure.
Forbes reporter Tom Brewster says he managed to successfully break into four Android phones by bypassing the facial recognition software with a 3D printed model of his head that cost £300 to make.
All four Google Android phones opened thanks to the head made of gypsum powder. The iPhone, however, wasn't fooled.
New - We had a 3D model of my head made to break into a bunch of Android phones using facial recognition: https://t.co/i50s8Y0sSONeither Apple nor Microsoft tech was fooled by the fake...

— Thomas Brewster (@iblametom) December 13, 2018
The team tested an iPhone X, a LG G7 ThinQ, a Samsung S9, a Samsung Note 8 and a OnePlus 6. They set up facial recognition on each of the phones using the reporter's real face. They then used the 3D model to successfully unlock the phones.
Also on rt.com
Taylor Swift sparks privacy concerns for secretly using facial recognition tech on fans
Only some of the phones, like, the LG G7 and the Samsung S9, warned about the limitations of facial recognition.
"Face recognition is a secondary unlock method that results in your phone being less secure," LG said.
Meanwhile, Samsung point out: "Your phone could be unlocked by someone or something that looks like you. If you use facial recognition only, this will be less secure than using a pattern, PIN or password."
The Samsung phone's iris recognition wasn't fooled by the fake head, but the facial recognition software was.
The Samsung and LG phones came with an option to turn on a slower and more thorough version of facial recognition, but both were fooled by the head. The S9 was more difficult to get into, but eventually opened.
The iPhone X was impossible to penetrate, likely as a result of Apple's efforts to test its accuracy, which included hiring a Hollywood studio to create realistic masks of people's faces.
However, the iPhone X came under fire in China in 2017 as it was unable to differentiate between some Chinese faces. The iPhone doesn't have fingerprint unlocking, which is a more secure form of authentication.
The results are ominous for those who may find themselves of interest to law enforcement, as police forces could easily make a 3D model of a suspect's head to unlock their phone.
If you like this story, share it with a friend!
You can share this story on social media: