World famous metal bucket crushing kangaroo dies aged 12 (PHOTOS)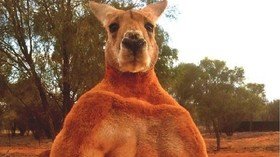 A kick-boxing kangaroo who gained millions of followers after footage of him crushing a metal bucket with his paws went viral in 2015 has passed away.
Roger, 12, died of natural causes while sleeping under his "favorite witchetty bush" in the Australian animal sanctuary where he grew up.
The buff Alpha kangaroo, who weighed 89 kilos and was six feet tall, stood out among fellow marsupials with his impressively muscular and manly physique.
He baffled audiences around the world when pictures of him using his massive, human-like paws to crush a metal bucket went viral three years ago.
Roger was just a joey when he was pulled out of his mother's pouch by driver Chris Barns after she was hit by a car and killed.
The kangaroo was the reason why Barns went on to build the Kangaroo Sanctuary Alice Springs, a refuge for kangaroos in Australia's Northern Territory, and where Roger spent the rest of his life.
The Sanctuary announced the kangaroo's death on social media over the weekend with a picture of the marsupial captioned: "The last photo of Roger we took was just a few days before he passed. He was relaxing before a big feed."
"Thank you everyone for your beautiful messages about Roger. He was so well loved by you all."
Fans have flooded social media with tributes and condolences as they hailed the "world's most famous kangaroo".
Australian singer Natalie Imbruglia was among those who expressed her condolences as she wrote: "He always brought a smile to my face. Such a proud strong boy."
RIP Roger the Roo. A stunning specimen of male macropod. Condolences to Brolga and all at the Kangaroo sanctuary in Alice Springs. He died of old age a happy, content and much loved roo. He will be missed 😭💚 pic.twitter.com/1i4WjsNpKu

— Jenny Hallam (@72Hallam) December 9, 2018
One Instagrammer said her "heart hurt so bad" at the loss of Roger that she was crying.
Meanwhile a UK-based couple took to Facebook to say they were "truly saddened" to learn about the kangaroo's death, before adding he was a "magnificent chap and much loved here, in the UK, as well as all over the world."
Barns described how despite being hand-reared, the kangaroo had become aggressive by the age of 2, a typical trait of male kangaroos.
"[Kangaroos] want someone to kickbox with and Roger used to practise his kickboxing with me," Barns told ABC news. He added that the huge roo would chase him around to prove he was 'number one'.
Think your friends would be interested? Share this story!
You can share this story on social media: