Yellow Vest protests are 'catastrophe' for French economy & business – finance minister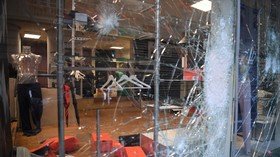 The Yellow Vest protests sweeping France are a "catastrophe" for the country's economy and businesses, Finance Minister Bruno Le Maire said, adding that they will affect the nation's economic growth.
"It's a catastrophe for business," Le Maire said on Sunday as he toured Paris streets affected by the protests which hit the country for the fourth consecutive weekend. "It's a catastrophe for our economy."
More than 1,700 people were arrested on Saturday throughout France and more than 260 protesters were injured, along with 17 officers.
The finance minister made it clear that the damage caused by the demonstrations goes beyond torched cars and damaged storefronts. The entire country, he said, "must expect a new slowdown of economic growth at year-end."
Saturday's protests saw demonstrators hurl objects at police, break windows, occasionally loot stores, and set vehicles and barricades alight in the streets. Officers responded by deploying tear gas and water cannon. A total of 89,000 officers were called in ahead of the nationwide rallies, with armored vehicles traveling down the streets of the French capital for the first time since 2005.
In Paris, demonstrators flocked to major tourists areas, including the ritzy and popular shopping area Champs Elysees. Major attractions including the Louvre, Eiffel Tower, Arc de Triomphe, and the Opera, along with most museums and public buildings, were closed as violence took over the streets. The iconic shopping center Galeries Lafayette also closed its doors.
The protests were a continuation from others that have hit the French capital and other cities across the country in recent weeks. Previous rallies saw demonstrators block highways and set toll booths on fire, causing major traffic disruptions and sparking major safety concerns.
Also on rt.com
Man has hand BLOWN OFF in explosion as Yellow Vest rally descends into chaos (DISTURBING VIDEO)
The Yellow Vest protests were initially in response to fuel hikes imposed by French President Emmanuel Macron. Although he later abandoned the plan, rallies have continued as a general movement against the leader and his government.
The president's critics believe his administration's policies favor the rich. "He will have to make serious changes with respect to his policies, reforms and his image as well, because many view him as arrogant, consider him to be the 'president of the rich', who does not grasp the needs of the people," Sergey Fyodorov from the Institute of Europe of the Russian Academy of Sciences told RT on Saturday.
Like this story? Share it with a friend!
You can share this story on social media: