US sanctions against Tehran are 'economic terrorism' – Rouhani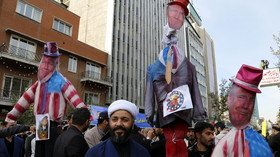 The US sanctions against Iran are blatant examples of "economic terrorism," and by disrupting Tehran's ability to fight terrorist attacks, Washington puts its own security at risk, Iranian President Hassan Rouhani said.
The "illegal US sanctions" are "a form of economic terrorism," Rouhani said, as cited by Iranian media. He further noted that the restrictions, re-imposed by Washington, are aimed at "terrorizing the economy" of Iran and threatening other nations into cutting trade and investment in the county.
Speaking at a security-themed conference on Saturday, the president noted that the sanctions may backfire since they undermine Tehran's own efforts to fight drug trafficking and terrorist attacks.
I warn those who impose sanctions that if Iran's ability to fight drugs and terrorism are affected... you will not be safe from a deluge of drugs, asylum seekers, bombs and terrorism.
On the sidelines of the event, Iranian Foreign Minister Mohammad Javad Zarif accused the US of flooding the region with weapons, turning it into a "tinderbox."
"The level of arms sales by the Americans is unbelievable and much beyond the regional needs," he said. That constitutes "a very dangerous" policy pursued by Washington in the region.
Also on rt.com
US can't stop Iran oil exports, Persian Gulf will shut if they try – Rouhani
US President Donald Trump re-imposed sanctions on Tehran's oil trade and banking sector earlier this year after pulling his county out of the Joint Comprehensive Plan of Action (JCPOA) on the Iranian nuclear program. Trump blasted the deal as "defective at its core" and accused Tehran of secretly violating it.
Washington's withdrawal was condemned by Russia, China and the EU, who are also signatories to the deal. The International Atomic Energy Agency (IAEA), tasked with monitoring Iran's nuclear program, repeatedly confirmed that the Islamic Republic was complying with the agreement.

Last week, US Secretary of State Mike Pompeo accused Iran of testing an intermediate-range ballistic missile, capable of carrying nuclear warheads. Without confirming or denying the test itself, the Iranian military claimed all their missile tests are meant to strengthen national defense. Foreign Minister Zarif further blasted Pompeo's remarks as "hypocrisy," adding that Washington violated the same resolution by ditching the nuclear deal.
Think your friends would be interested? Share this story!
You can share this story on social media: