Stampede in Italian nightclub leaves 6 dead and over 100 injured
Published time: 8 Dec, 2018 04:30
Edited time: 8 Dec, 2018 11:43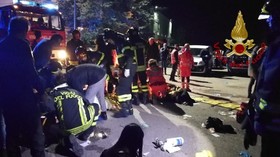 Six are dead and 120 injured from a stampede during a rap concert at a packed nightclub in Italy, local media reports. Witnesses say the panic was caused by pepper spray.
The incident took place around 1am local time at the popular Lanterna Azzura club in the town of Corinaldo in the eastern Ancona Province. More than 1,000 people showed up to see Sfera Ebbasta, one of the nation's most famous young hip hop artists.
The cause of the stampede was not immediately clear, but witnesses report that it started after pepper spray was fired inside the crowded club.
"We were dancing while waiting for the show, when we smelled a peppery smell. We ran for… one of the emergency exits but it was blocked. The club bouncers told us to come back," a 16-year-old concertgoer told la Repubblica.
Several other people who were injured also said they noticed an acrid smell before the resulting mass panic led people to trample each other while trying to escape the building.
READ MORE: 5 football fans killed in stampede at African Champions League match
At one point an emergency escape door was opened but the two iron side barriers on the walkway were "too narrow and people started falling over each other," the local police chief, Oreste Capocasa, told reporters.
A video filmed outside the club shows one of the barriers collapsing and several people falling, as the massive crowd is struggling to pass through the emergency exit.
According to local media, the tragedy claimed at least six lives, including a mother who was accompanying her daughter to the event. The other victims are teenagers – three girls and two boys. More than 120 people were injured, at least 10 of whom were hospitalized in serious condition.
A similar incident occurred in Piazza San Carlo in Turin in 2017, when pepper spray was fired in a robbery attempt at a crowded screening of a soccer match, leaving 1,500 people injured and one dead as the panicked crowd struggled to escape.
Think your friends would be interested? Share this story!