Sex sells: Chinese real estate agent paints property plans on topless women (VIDEO)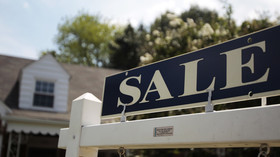 A Chinese property developer got very creative during a promotional event for a new apartment complex, by painting floor plans on the backs of half-naked women.
Video footage of the bizarre promotional event for the new project was reportedly captured on November 30 in Nanning City, in southern China's Guangxi Zhuang Autonomous Region.
Four topless Asian women appear in the footage, wearing short sarong-type skirts and nothing but paint covering their breasts in the shape of a butterfly or flowers. Detailed floor plans for various apartments are painted on their backs while perspective buyers ogle the half-naked women.
Also on rt.com
Sinkhole swallows woman whole as onlookers watch in shock (VIDEO)
According to the Chinese news network CGTN, the event was heavily criticised as "vulgar and shameful" among locals, and the real estate center has been shut down while authorities investigate.
If you like this story, share it with a friend!