Sinkhole swallows woman whole as onlookers watch in shock (VIDEO)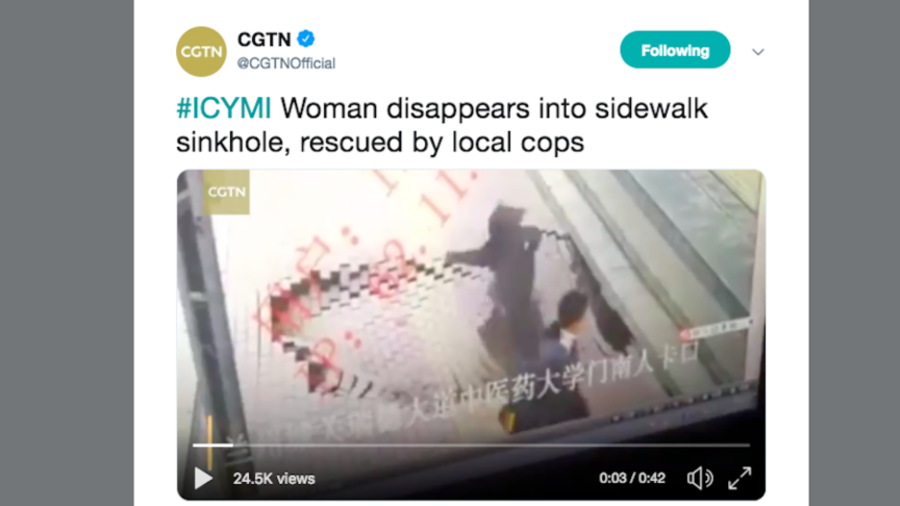 A hapless pedestrian is lucky to be alive after a large sinkhole swallowed her whole, breaking two of the woman's ribs in the process. Passersby looked on in horror as she completely disappeared into the void.
CCTV and eyewitness footage of the alarming incident, which happened in Lanzhou in Gansu province in northwestern China on Sunday, circulated far and wide on Chinese social media, quickly going viral on Weibo. Video posted to Facebook by Chinese state broadcaster CGTN was viewed more than half a million times.
The three-meter by three-meter hole yawned open suddenly at the unsuspecting woman's feet as she strolled down a footpath.
Trepidatious bystanders, keen to rescue the woman, were wary that the sinkhole would expand further and swallow them up as well. One young man, referred to as "little brother" by Chinese social media users, can be seen agonizing over the decision of whether to approach and try to help rescue the stricken pedestrian.
The woman was eventually rescued with a rope and rushed to hospital where she was treated for two broken ribs and a rather painful looking bump to the head.
Lanzhou traffic police cordoned off the area and warned ever-curious citizens against approaching the sinkhole for a closer look. The city has been plagued with sinkholes in recent months, including one which opened at a busy intersection, swallowing up three people and killing one of them.
"This is not an accident. Lanzhou had four or five such incidents last year," wrote one concerned citizen on Weibo.
READ MORE: Horrifying footage emerges of sinkhole swallowing two women in Turkey (VIDEO)
"Lanzhou! How many times has this been this year?" commented another. "The second time, the last time was Zhangye Road, this was what happened yesterday," another user replied.
Some speculated that the epidemic of sinkholes is related to recent underground metro works combined with the city's "loose" quality of soil.
Think your friends would be interested? Share this story!
You can share this story on social media: