Horrifying footage emerges of sinkhole swallowing two women in Turkey (VIDEO)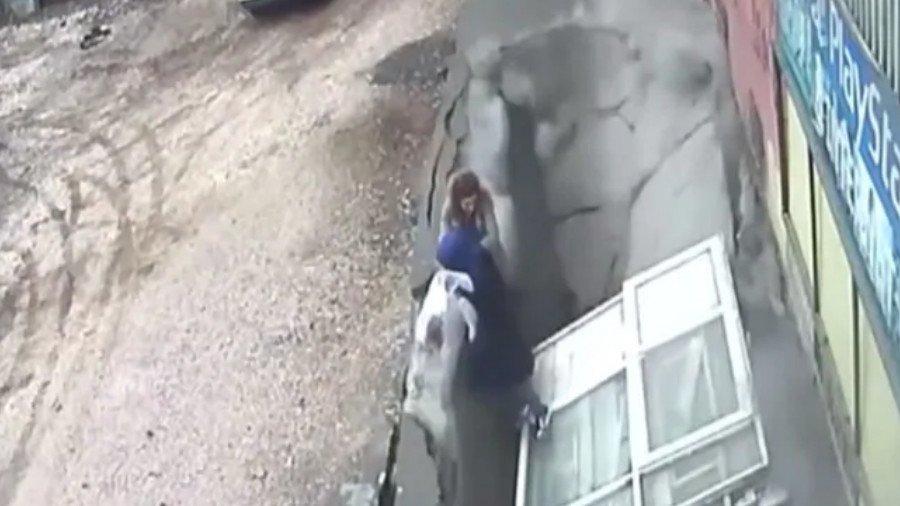 A doctor and nurse were chatting and laughing after leaving work at a family medical clinic when the pavement on which they were walking collapsed beneath them. The entire incident was captured in shocking CCTV footage.
Dr Suzan Kuday Balık and nurse Ozlem Duymaz were oblivious to what awaited them but heard an ominous rumble before the gaping sinkhole opened up at their feet at roughly 4pm local time on Thursday in the Turkish city of Diyarbakir.
"No one should live through that. My daughter came to my mind at the time," Balik told DHA. "I was in complete shock, everyone called me to see if I was OK, my phone did not stop at all."
The pair were swallowed up by the concrete abyss and showered with dust and debris, falling some three meters to the basement below. Security camera footage of the incident has been shared widely in the Turkish media.
No sooner had the cavern devoured them than a crowd of heroic passersby leapt to their aid and pulled them from the debris.
READ MORE: Four dead as sinkhole swallows up city pavement (VIDEO)
"As far as I know, there is no support column... Five or six meters of brick came down; this is serious negligence. Iron is not used, so it is a crime to do," one of the rescuers told the Ihlas news agency.
Both women were taken to a nearby hospital by ambulance but amazingly, only suffered minor injuries.
First responders from the police and fire department cordoned off the area of the collapse and a full investigation into the circumstances has been launched.
Like this story? Share it with a friend!
You can share this story on social media: