Four dead as sinkhole swallows up city pavement (VIDEO)
Published time: 10 Oct, 2018 13:03
Edited time: 11 Oct, 2018 07:50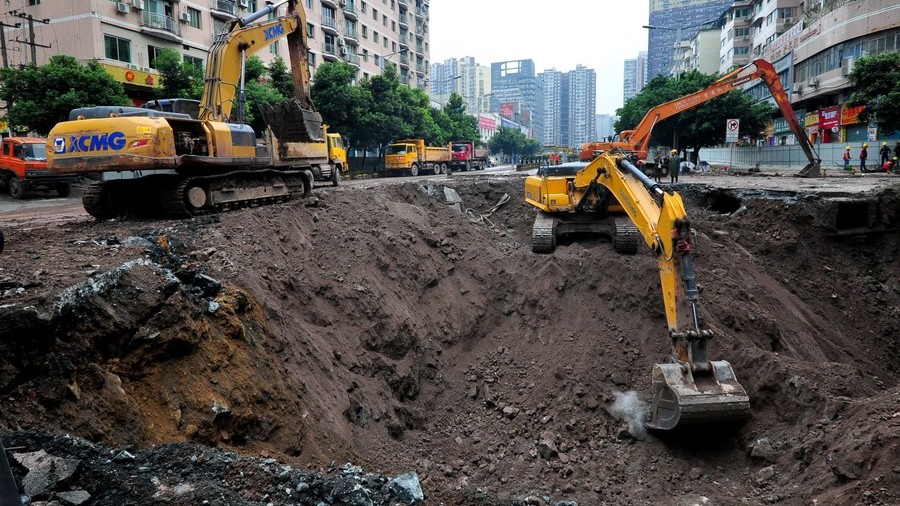 A group of pedestrians swallowed up by a massive sinkhole in the Chinese city of Dazhou have all reportedly died, two days after survivors were pulled from the gaping cavity.
The sudden and horrific collapse of a sidewalk near a busy commercial district was captured on CCTV on Sunday. In footage obtained by the People's Daily newspaper, four people can be seen tumbling into a large street crevasse that seconds earlier had not existed.
READ MORE: Sinkhole city: Russian settlement being slowly consumed (VIDEO)
Watch the terrifying moment a large sinkhole appeared on a sidewalk in Dazhou, SW China's Sichuan, on Sunday, swallowing 4 people, one of whom has been confirmed dead. Rescue operations are still underway, according to local media reports. pic.twitter.com/qYQ4ba5rnx

— People's Daily,China (@PDChina) October 8, 2018
Sinkholes generally occur in places where soil has been undercut through excavation or natural water erosion. Chinese settlements have experienced a number of sinkhole phenomena in recent years, including an incident in 2016 when four cars were swallowed up.
READ MORE: Watch how giant sinkhole swallows four cars in China (VIDEO)
According to the South China Morning Post, two people pulled from the rubble alive in this recent incident later died in hospital. It is now being reported that a total of four people died in the disaster. Among the dead were a newlywed couple, as well as a father and his 11-year-old son.
Like this story? Share it with a friend!