Ukrainian leadership is a party of war, and it will continue as long as they're in power – Putin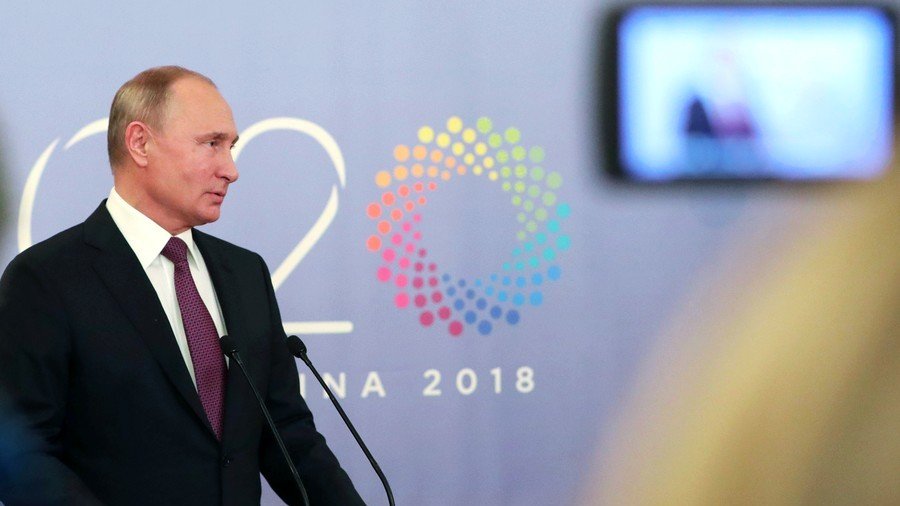 Russia's President Vladimir Putin has branded the Ukrainian leadership a "party of war" which would continue fueling conflicts while they stay in power, giving the recent Kerch Strait incident as an example.
"When I look at this latest incident in the Black Sea, all what's happening in Donbass – everything indicates that the current Ukrainian leadership is not interested in resolving this situation at all, especially in a peaceful way," Putin told reporters during a media conference in the aftermath of the G20 summit in Buenos Aires, Argentina.
This is a party of war and as long as they stay in power, all such tragedies, all this war will go on.
The Kiev authorities are craving war primarily for two reasons – to rip profits from it, and to blame all their own domestic failures on it and actions of some sort of "aggressors."
Also on rt.com
'Kiev would get away even with eating babies': Putin says Kerch Strait standoff is a provocation
"As they say, for one it's war, for other – it's mother. That's reason number one why the Ukrainian government is not interested in a peaceful resolution of the conflict," Putin stated.
Second, you can always use war to justify your failures in economy, social policy. You can always blame things on an aggressor.
This approach to statecraft by the Ukrainian authorities deeply concerns Russia's President. "We care about Ukraine because Ukraine is our neighbor," Putin said.
Tensions between Russia and Ukraine have been soaring after the incident in the Kerch Strait. Last weekend three Ukrainian Navy ships tried to break through the strait without seeking the proper permission from Russia. Following a tense stand-off and altercation with Russia's border guard, the vessels were seized and their crews detained over their violation of the country's border.
Also on rt.com
'I had a short conversation with Trump and I DIDN'T sit next to Melania' – Putin
While Kiev branded the incident an act of "aggression" on Moscow's part, Russia believes the whole Kerch affair to be a deliberate "provocation" which allowed Kiev to declare a so-called "partial" martial law ahead of Ukraine's presidential election.
Think your friends would be interested? Share this story!
You can share this story on social media: