'Kiev would get away even with eating babies': Putin says Kerch Strait standoff is a provocation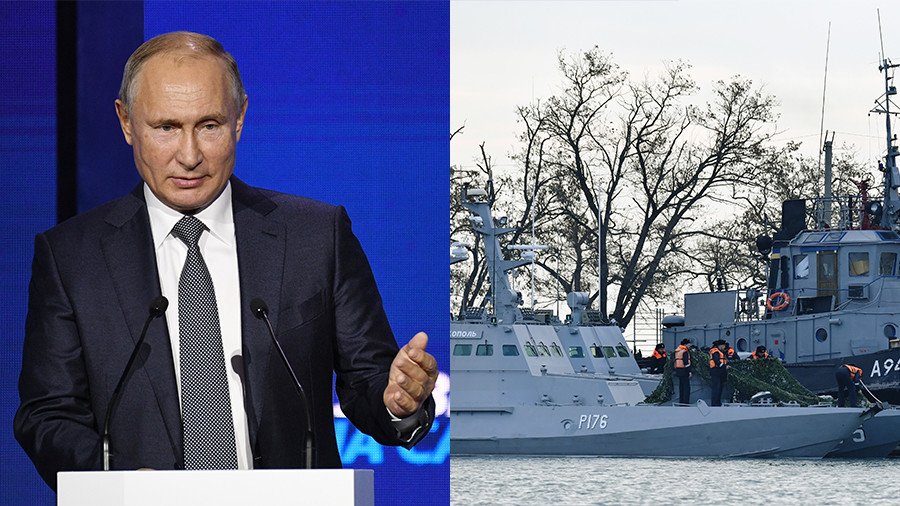 President Vladimir Putin said the clash between Russian and Ukrainian military ships was a result of foreign nations failing to hold Kiev accountable for bad behavior as long as it remains confrontational towards Russia.
They were the first remarks made by the Russian leader since the confrontation in the Kerch Strait, a narrow passageway between the Black Sea and the Azov Sea, where a strategic bridge connecting Crimea to mainland Russia is located.
"The authorities in Kiev are selling anti-Russian sentiment with quite a success today. They have nothing else to do," Putin said during a business forum in Moscow.
The Russian president said it seemed like Kiev could get away with anything as far as foreign nations supporting Ukraine's anti-Russian stance were concerned.
If they demand babies for breakfast, they would probably be served babies. They'd say: 'Why not, they are hungry, what is to be done about it?' This is such a shortsighted policy and it cannot have a good outcome. It makes the Ukrainian leadership complacent, gives them no incentive to do normal political work in their country or pursue a normal economic policy.
Putin said the incident, which ended in Russia's seizure of three Ukrainian ships and Kiev imposing a partial martial law in the country, was a "dirty game" by Poroshenko, who needs to suppress his political opponents ahead of the March presidential election. He affirmed that the Ukrainian side was responsible for the escalation of tensions, since the incident was a deliberate and planned provocation by the Ukrainian Navy.
Also on rt.com
Ukraine security chief admits intel agents were on board Navy ships during Kerch standoff
The Russian leader also defended the border guards who stopped the Ukrainian ships from passing through the Kerch Strait, saying it was their duty as sworn service members to do so and that, if they failed, they could face a tribunal for defying an order.
If you like this story, share it with a friend!
You can share this story on social media: