Russia again! Twitter mocks nameless CIA agent who blames Kremlin for dubious Manafort-Assange story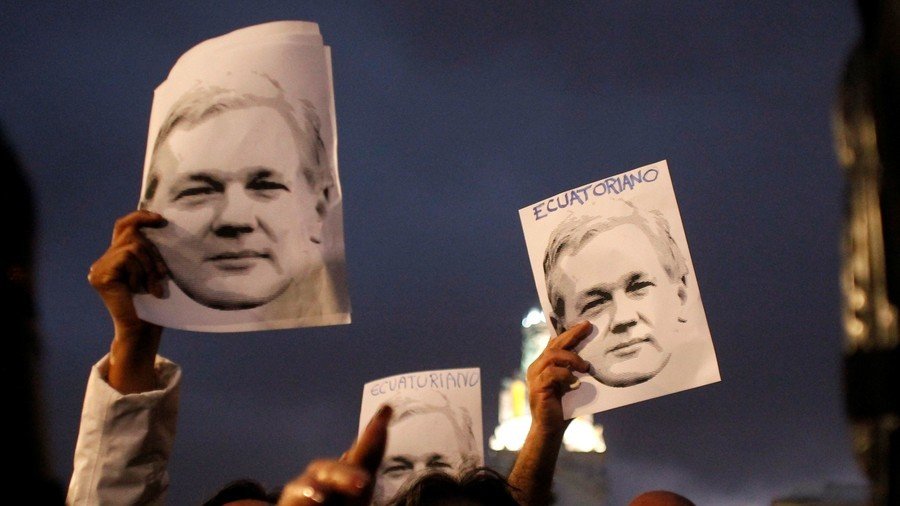 A nameless CIA officer writing for Politico has absolved the Guardian of any journalistic malpractice after it ran a story about alleged meetings between Julian Assange and Paul Manafort, because "Russia." Twitter is not amused.
Twitter went into meltdown mode on Tuesday after the Guardian published a story claiming that former Trump campaign chairman Paul Manafort had met numerous times with WikiLeaks cofounder Julian Assange. The explosive report, penned by accused plagiarist Luke Harding, was quickly amended in order to reflect its highly speculative nature. While both Harding and Guardian editor-in-chief Katharine Viner were skewered for the fact-deficient piece –which has yet to be corroborated by another news outlet– a brave, anonymous former CIA officer rose to the Guardian's defense.
In a piece that could have only been published by Politico, the nameless ex-spook argues that Harding may be the innocent victim of a setup, and was tricked into publishing unsubstantiated claims. The evil villain who duped Harding into not doing his job properly? Hint: Starts with an "R," ends with "ussia."
"If this latest story about Manafort and Assange is false … the most logical explanation is that it is an attempt to make Harding look bad," the piece expertly argues, before diving headlong into a bizarre connect-the-dots conspiracy theory involving RT and … Glenn Greenwald. The prominent journalist was later removed from the piece after our deeply insightful CIA friend fudged the facts about Greenwald's non-existent work with WikiLeaks. Politico even issued a correction.
Also on rt.com
Assange-Manafort fabricated story is a plot to extradite WikiLeaks founder – Max Blumenthal
Greenwald was understandably displeased, venting his fury in a biting series of tweets: "The only point of the article is to *invent out of whole cloth* a wild conspiracy theory: that perhaps Russia-controlled operatives caused the @Guardian to publish a false story –its viral Assange/Manafort story– in order to discredit Luke Harding for his Russia reporting," he wrote.
3/ The whole conspiracy theory is made up with no evidence. Worse, it relies on blatant fabrications, such as the one highlighted here. Everyone knows I didn't work with WL to report the Snowden story. It's a lie. But US media outlets are *willing to lie if the targets are right* pic.twitter.com/hAJr9yPj6P

— Glenn Greenwald (@ggreenwald) November 28, 2018
Others joined in Greenwald's disbelief at the Politico story. Journalist Aaron Mate described the anonymous op-ed as "beyond parody."
Rolling Stone's Matt Taibbi said he had "no words" for the piece. "We've gone from unnamed sources to unnamed authors."
Greenwald later noted that Harding's all-star reporting has yet to be confirmed by other media outlets.
2 days after the @guardian & Luke Harding claimed Manafort secretly visited Assange 3 times:* No other media outlet has confirmed it.* No video or photos have emerged proving it.* POLITICO published an article by an ex-CIA agent with a fake name suggesting it's Russia's fault

— Glenn Greenwald (@ggreenwald) November 29, 2018
Like this story? Share it with a friend!
You can share this story on social media: