Assange-Manafort fabricated story is a plot to extradite WikiLeaks founder – Max Blumenthal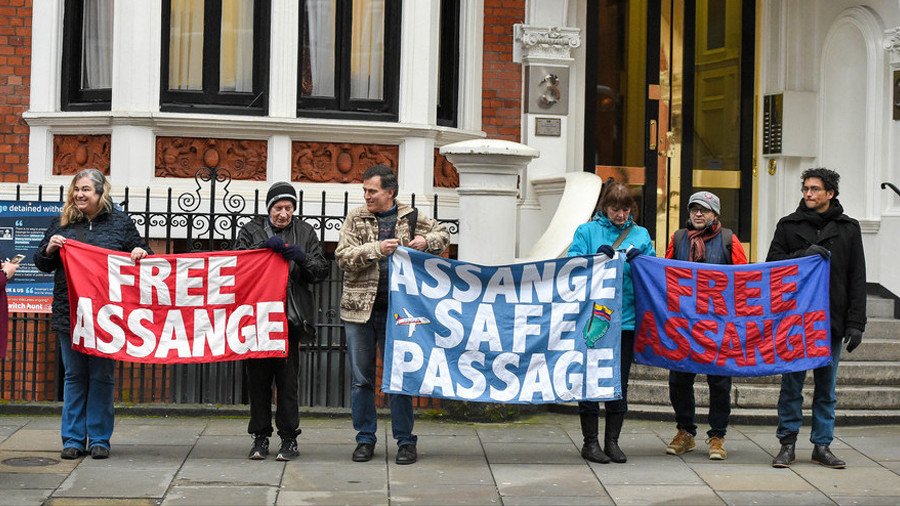 The apparently fabricated report by The Guardian linking Russiagate and Manafort to WikiLeaks is laying the case to arrest and extradite Julian Assange to the US, investigative journalist Max Blumenthal told RT.
WikiLeaks is ready to sue Britain's Guardian newspaper for a "fabricated Manafort story" that accused Julian Assange of secretly meeting Donald Trump's former election campaign chairman Paul Manafort.
Manafort agreed to take part in the Mueller probe over Russia's alleged meddling into the 2016 US election but he denies co-operating with Russia or ever meeting Assange.
A spokesman for Paul Manafort responds to the Guardian story: "This story is totally false and deliberately libelous. I have never met Julian Assange or anyone connected to him. I have never been contacted by anyone connected to Wikileaks, either directly or indirectly..." 1/2

— Carrie Johnson (@johnson_carrie) November 27, 2018
The author of the report, Luke Harding, based his claim on "sources" and a document "written by Ecuador's Senain intelligence agency and seen by the Guardian," which the newspaper didn't publish.
Investigative journalist Max Blumenthal asks why they didn't provide actual "evidence from the visitor logs of the Ecuadorian Embassy which are closely watched."
"Why not show CCTV? London is the most heavily surveilled places on Earth. Why not show that? Why rely on a single Ecuadorian source who appears to be an Ecuadorian intelligence source with the MI6 on the other hand of the line and the US on the other?" he said in a comment to RT.
He believes that it is a fabrication of a story to lay the case for the arrest and extradition of Julian Assange "by tying him to a figure who is hatching out a plea deal with Robert Mueller, by tying him to the Russiagate scandal in the US."
Blumenthal noted that this story was being met with more skepticism than usual – "even in official circles in Washington" – and that "it might have failed."
However, he added, "once the allegation is made, the damage is done."
"Many people might have read this story and seen some commentary about it and news on CNN and judge that Assange did meet with Paul Manafort," he pointed out.
Also on rt.com
Manafort and Assange deny meetings claimed in Guardian's widely-criticized piece, threaten to sue
'Guardian has become bulletin board for fabricated national security state propaganda'
Although WikiLeaks is going to sue over this story and both WikiLeaks and Paul Manafort deny the allegations, the article is still on The Guardian's website.
"It is a sad commentary on what The Guardian has become – basically a bulletin board for fabricated national security state propaganda," Blumenthal said.
According to the journalist, this story brings together the Russiagate scandal in Washington with the plot to extradite Assange.
"We know that there is an indictment of Julian Assange, it may be made public tomorrow," he said. US Secretary of State Mike Pompeo met with the Ecuadorian foreign minister earlier in the week, which might be a sign that it could be made public, Blumenthal explained.
Recalling that Paul Manafort is working out a plea deal with Robert Mueller, Blumenthal argued that the report may have been "an attempt to put the squeeze on Manafort because he is not providing enough information."
"This apparently fabricated story was planted through Luke Harding... in order to lay the case for the arrest and extradition of Julian Assange," he said.
If arrested and extradited, Blumenthal explains, Assange would be the first journalist who published classified information in the US to be tried under the Espionage Act. That, he noted, would basically deprive the WikiLeaks founder of "any real legal defense or an ability to mount a defense and would see him put on trial in a district court in Northern Virginia where the conviction rate on national security prosecutions is close to 100 percent."
Also on rt.com
All the Kremlin's men: Farage, Moscow and six degrees of Kevin Bacon
Former MI5 intelligence officer Annie Machon thinks the US will go to any lengths to fix charges against Assange.
"It has been an open secret for many years that there has been a secret grand jury convened in Virginia trying to find any charge or probably make up a new law just to prosecute Julian Assange as a revenge for the fact that he shone a very bright light on some very murky and dark details of what the American state was doing," she explained.
According to Machon, it is useful for the American establishment and the Democrats "to conflate everything with one big mess: Paul Manafort, the Mueller probe, Donald Trump, WikiLeaks as all part of big Russiagate-type thing." She added that when you actually "pick the details, none of that hangs together whatsoever."
In her opinion, Julian Assange is becoming a pawn in "a very high stakes game within American Washington politics."
Like this story? Share it with a friend!
You can share this story on social media: