From little 'bandit' to queen: Ex-Miss Moscow marries Malaysian king (PHOTOS)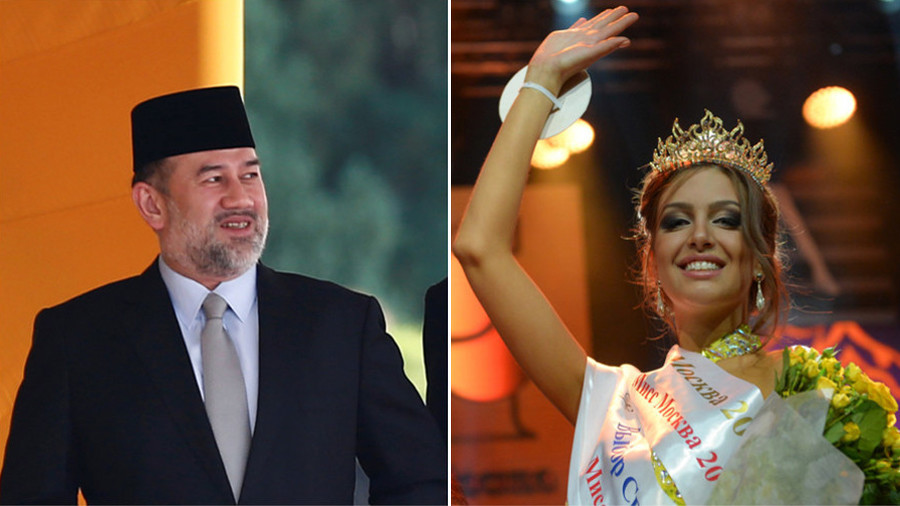 The 49-year-old king of Malaysia has married 25-year-old former Miss Moscow, photos which surfaced online reveal. There has been no official confirmation of the lavish wedding at a posh Moscow venue.
Muhammad V of Kelantan, the elected king of Malaysia, apparently married Russian beauty queen Oksana Voevodina. The secretive ceremony reportedly took place in Barvikha, a luxury village in Moscow inhabited by the Russian elite.
Photos and a short video clip of the ceremony were posted on Facebook.
The wedding incorporated both Muslim and Russian traditions, with halal food but no alcohol, according to the Russian Muslim outlet Islam News.
The Muslim groom was wearing traditional Malay garb, while the bride wore a sparkling white wedding dress. Muhammad V, who is officially on medical leave from his duties until the end of the year, was previously married to a member of Malay royalty. The two divorced in 2008, and in 2016 Muhammad became the first king in Malaysian history to reign without a consort.
Voevodina shot to royalty from a simple background. The daughter of an orthopaedic surgeon from southern Russia, she had described her young self as a "bandit" who liked skater boys in school. She says her participation in the Miss Moscow 2015 pageant was random opportunity: a friend invited her, but didn't make it into the contest herself.
It is rumored that Voevodina had earlier converted to Islam, taking the name Rihana Oxana Gorbatenko (her father's last name). In some images on social media, she is seen wearing a hijab.
If you like this story, share it with a friend!