Split-second from disaster: Cyclist cheats death after failing to spot oncoming train (VIDEO)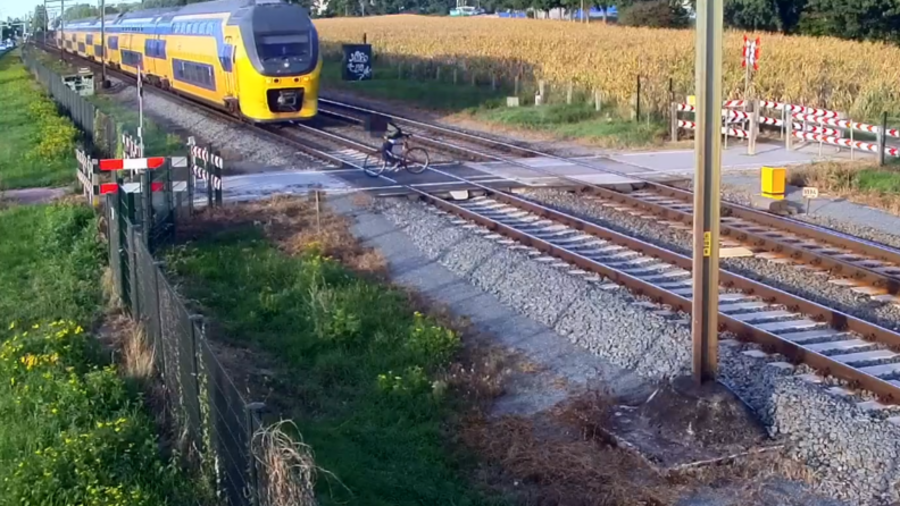 A young Dutch cyclist is lucky to be alive after a moment's carelessness almost proved fatal. His brush with death, and a passenger train, was captured on CCTV and shows just how close he came to a grisly end.
In the video, a small freight train obscures the cyclist's view for just long enough that he thinks the tracks are clear, so he begins nonchalantly cycling across only to discover a bright yellow locomotive barreling down on him.
At the midway point, he picks up pace just enough so that he makes it to safety in time, pausing to reflect on how close he just came to meeting his maker. The incident took place on Saturday afternoon at Santpoort near Amsterdam.
Rail operator ProRail said in a Facebook statement that there are roughly two deaths per year for every unguarded level crossing in the Netherlands. A 47-year-old man was killed in an accident at the same crossing in Santpoort earlier in November.
"Apart from the dead that fall, more than a hundred near-misses occur annually," says Geert Vlogman of ProRail.
Like this story? Share it with a friend!
You can share this story on social media: