Demolition gone wrong? Debris flung at busy road as multi-story building collapses (VIDEO)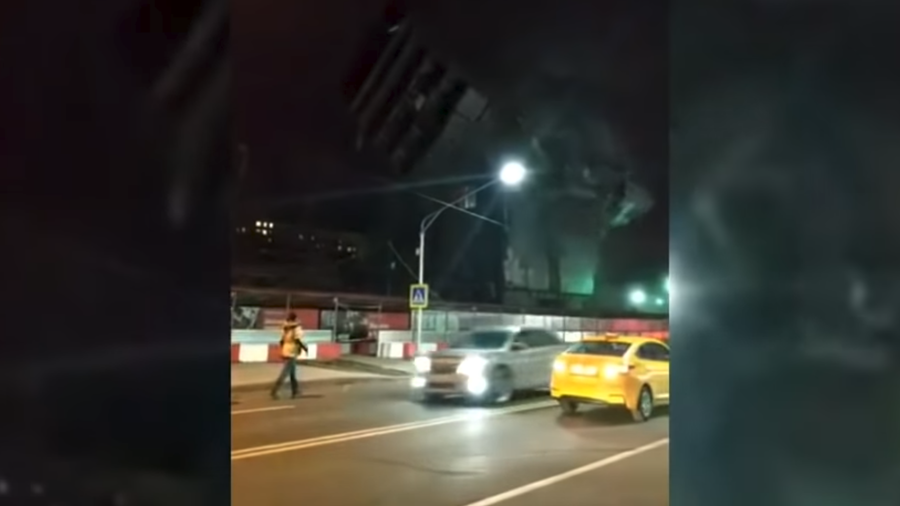 An ominous black cloud engulfing the road and debris raining from above were not what drivers, waiting out a demolition of a Moscow roadside business center, expected when they captured it on video.
Scary footage showing a high-rise business center in northeastern Moscow going down in seconds has been making rounds online. The toppling tower appears to narrowly miss a nearby road and the cars on it.
The video was filmed on Wednesday evening as the long-planned demolition of the 'Severyanin' BC was getting underway. It shows the building crumble and belch out a thick cloud of black smoke or dust, which then envelops the road and the adjacent sidewalk.
While the construction company performing the works insisted that nothing out of the ordinary happened, witnesses to the epic collapse reported that some of the stray debris almost hit passing cars.
The video shows one of the cars passing the road a moment before the cloud blocks it off.
The construction company, meanwhile, denied that it botched the demolition, telling Moscow 24 channel that no debris landed on the sidewalk or the road and that the onlookers were simply spooked by the black cloud. A spokesman for the company said that traffic was closed for the demolition, and the car that nearly got hit was driving in the wrong lane and had not heeded the orders of traffic police.
Like this story? Share it with a friend!
You can share this story on social media: