Brave or stupid? Russian hikers walk up volcano… as it erupts (VIDEO)
In incredible display of either complete disregard for personal safety or incredible courage, a group of hikers trekked up an erupting volcano in far eastern Russia as it spewed massive clouds of black ash into the air above.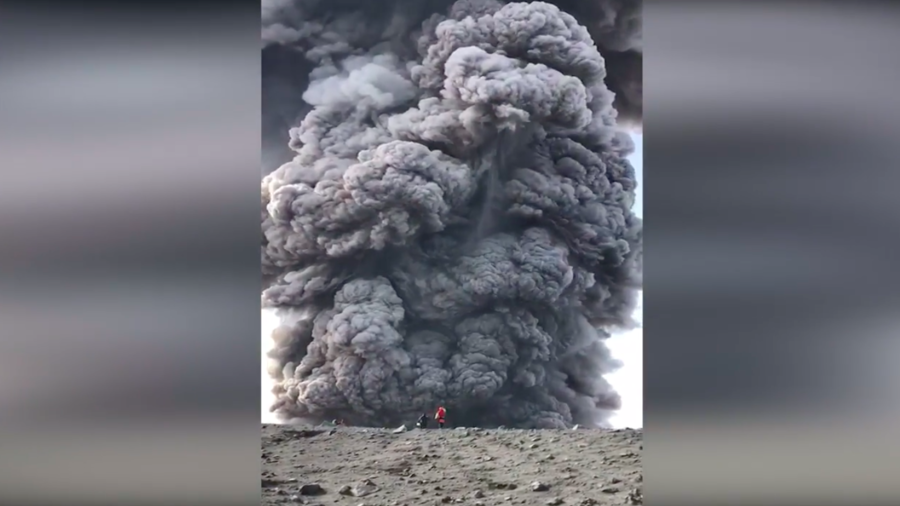 The extreme walk in a disaster movie-like setting took place near Severo-Kurilsk on Paramushir Island, one of Russia's Kuril Islands.
Video taken by the hikers shows an alarmingly huge mushroom cloud of black smoke billowing out of the Ebeko volcano's crater, creating a massive dark wall that takes over the sky.
Some of the hikers are seen fleeing from the crater's edge after taking a daring peek into the abyss. Luckily, the video doesn't show any lava spilling out of the volcano, just a lot of horrible smokey ash.
The dramatic footage was filmed on September 27, and volcanologist data from that week recorded Ebeko emitting ash plumes some 4 km into the air. The clouds drifted as much as 68 km south-east of the crater.
The area was left blanketed in ash, with a strong smell of rotten eggs lingering in the air, thanks to the hydrogen sulfide emitted during the eruption.
The volcano, one of the most active on the Kuril Islands, continues to erupt weeks later.
Like this story? Share it with a friend!
You can share this story on social media: