Italian cops destroy 'mafia' homes, residents claim persecution 'like Jews under Mussolini' (VIDEOS)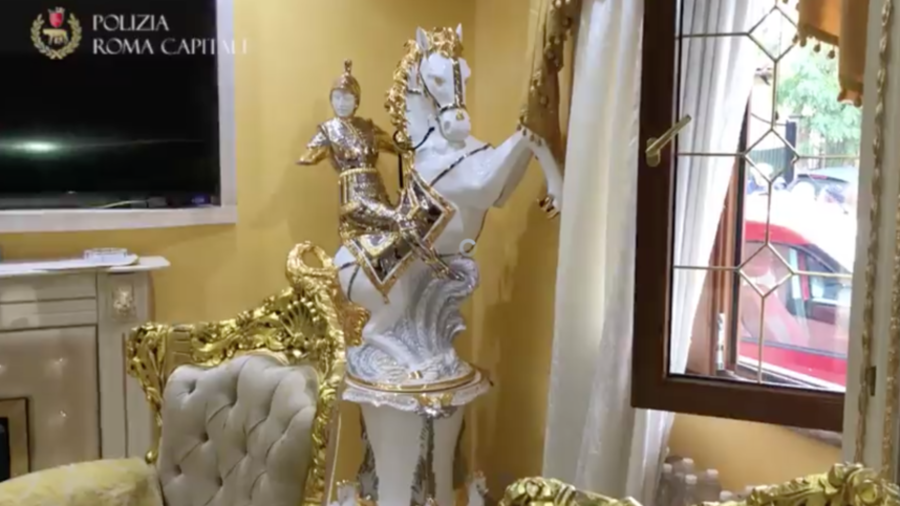 Italian police have begun bulldozing a community of 8 villas allegedly built by a mafia clan in Rome. Some of the residents claimed the raid amounts to the kind of persecution that Jews faced under the fascist dictator Mussolini.
As the walls of the first two villas came crumbling down early Wednesday, police were given a glimpse into the lavish and gaudy lifestyles of the Casamonica clan – including gold-plated animal statues, over-the-top chandeliers, and imitation frescoes.
Mayor Virginia Raggi has promised that that the rest of the homes – which were illegally built on areas of archaeological interest – will be meeting the same fate as the first two. "All eight villas will be knocked down. We will not stop until we have returned this territory to the citizens of Rome," she said, as quoted by AFP.
More than 600 police officers were present for the dawn raid on Wednesday, evicting around 30 people from the premises. But the Casamonica members didn't take it lying down. In fact, many went so far as to compare their plight with the persecution of Jews by Italy's Benito Mussolini.
The raid, which was more than 10 months in the making, was praised by Italian Interior Minister Matteo Salvini, who said he's "not going to stop until we've knocked down every last villa belonging to these damn people."
The Casamonica clan has long been a thorn in the side of Rome, as the group has always denied being mafiosi – but appear to enjoy provoking authorities who have long sought to put the group behind bars but never seem to have quite enough evidence to do so.
In 2015, the group made headlines for throwing a lavish funeral for alleged mob boss Vittorio Casamonica himself, even playing the theme song from the famous mafia movie 'The Godfather' outside the church as a helicopter dropped rose petals on mourners. Signs inside the basilica read: "You have conquered Rome, now you'll conquer paradise."
The Wednesday demolition comes after a separate raid in July saw 33 members of the Casamonica clan arrested in similarly gaudy properties which were filled with gilded mirrors, marbled animal sculptures, and extravagant furniture.
Salvini, who posed outside one of the raided villas in July, said the newest raid is a good thing for Rome. "The party is over," he warned on Monday.
A lawyer for the Casamonicas told Italian media that he will be challenging the demolition order.
Like this story? Share it with a friend!
You can share this story on social media: