WATCH Russia's Su-57 stealth jets fly their 1st combat mission in Syria in rare MoD VIDEO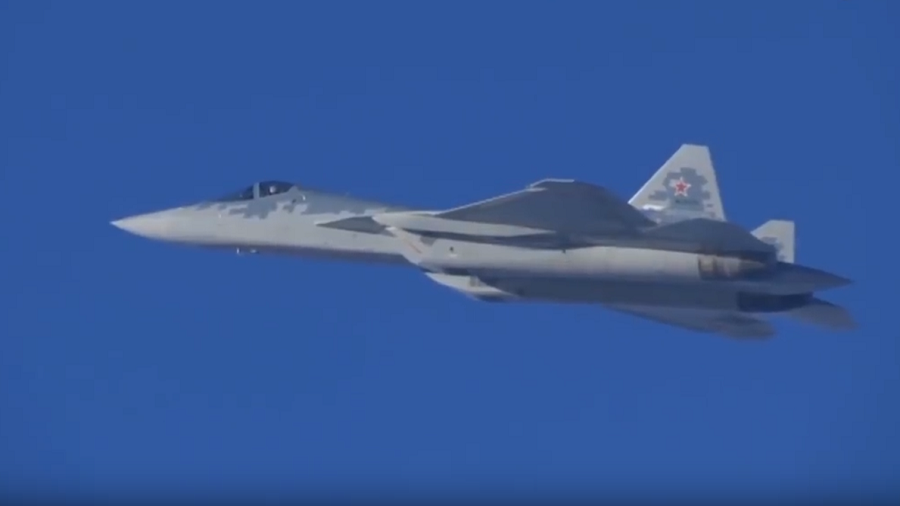 The brief Syria deployment of Russia's Su-57 fifth-generation fighters that made headlines around the world can now be seen in newly released Defense Ministry footage, showing the jets flying sorties and returning to base.
The Russian Defense Ministry has released an astonishing video showing a pair of Russia's cutting-edge Su-57s testing ground in Syria. The jets are seen taking off from an undisclosed location – presumably, Russia's Khmeimim air base in Syria's northeast – before flying up.
The Su-57s are then filmed traversing the skies over Syria. At some point the camera gets so close that the pilot's actions can easily be seen inside the cockpit.
The video also shows the stealth jets simultaneously landing on the runway, with or without the parachute brakes.
The planes, which flew a total of ten sorties, were pushed to the limit as the military wanted to see how they would perform during a real-life mission. The jets' aerodynamics, avionics, fire control, and weapons systems were all put to test amid high temperatures and complicated terrain, the ministry said on Facebook.
Though little is verifiably known about the Su-57's features and capabilities, the jet has given a bit of publicity in recent weeks.
Recently, Russian TV was allowed to film the low-visibility fighter flying in formation during mid-air refueling. The jet approached close enough so that the flying tanker would be able to extend the refueling cable and far enough to avoid a collision.
READ MORE: Russia's Su-57 stealth quality test caught on VIDEO
The multirole, single-seat, twin-engine Su-57 jet, referred to as PAK FA and T-50 during research and development, is designed to give the Russian Air Force an unhinged superiority in aerial warfare.
It is said to be capable of engaging all types of air, ground and surface targets benefiting from a sophisticated target acquisition system. The Su-57 is expected to stand out due to exceptional maneuverability and supersonic features.
The jet will also be hard to spot on radar as it is reportedly covered by a special radio-absorbent paint. The Su-57's guided and unguided weapons are also hidden in domestic bays to ensure low radar signature.
Like this story? Share it with a friend!
You can share this story on social media: