Russia's Su-57 stealth quality test caught on VIDEO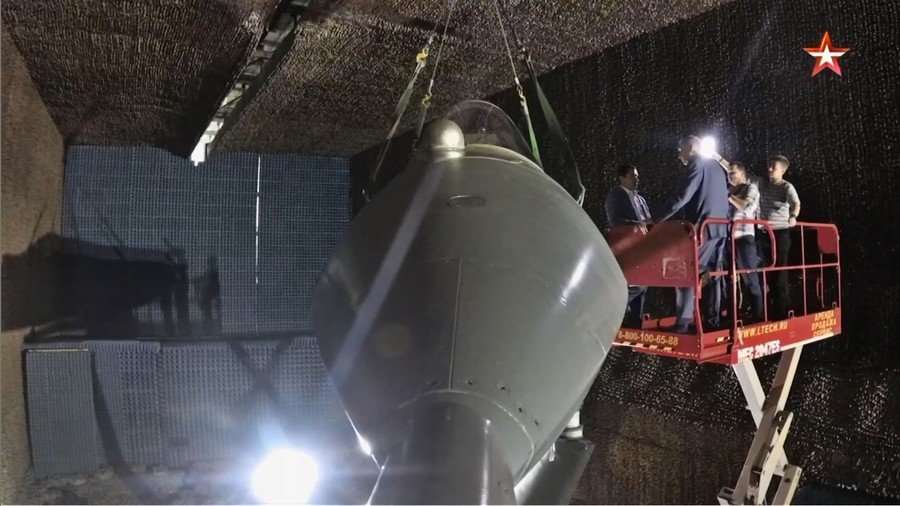 Footage of a test being conducted to determine the stealth qualities of Russia's 5th gen Sukhoi Su-57 fighter jet has been published by the Defense Ministry's TV channel.
The Sukhoi Su-57 is Russia's first and only 5th generation fighter jet so far. The producer has built 13 prototype pieces since 2009.
The video is part of a new episode of a documentary film about the development produced by the Zvezda channel. The test was done in an anechoic chamber and involved only the nose part of the plane, or rather the cockpit canopy, which was covered with an EM-radiation absorbing material, unlike the rest of the nose. A pilot mannequin was placed inside for better fidelity.
Academician Andrey Lagarkov, the chief scientist for the Su-57 special characteristics development program, played the guide for the test. He said the choice of how exactly to reduce radar cross section of an aircraft was a balancing act for engineers.
"You can make the body itself from radiation-absorbing materials. This is a legit approach too. But if you make this choice, you compromise structural strength," he said.
The Russian Defense Ministry currently wants to take 12 Su-57s into military service for a limited test run. Earlier, more ambitious plans to introduce dozens of jets reportedly hit a budgetary bump.
Think your friends would be interested? Share this story!
You can share this story on social media: