Meter-high flames & huge plumes of smoke as Moscow oil refinery catches fire (PHOTO, VIDEO)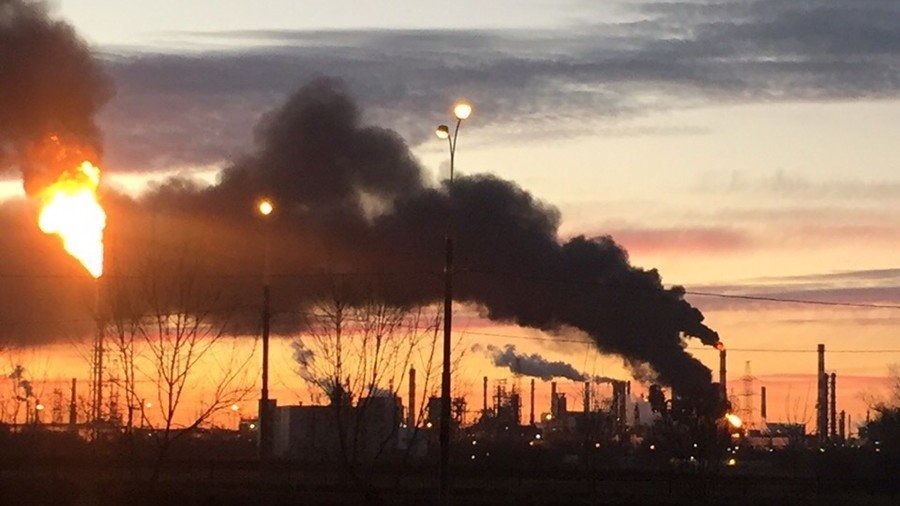 Fire has engulfed an oil refinery plant in Moscow. Social media images show fire burning in at least two locations, with thick black smoke covering the air.
People took to social media on Saturday morning complaining about the smell as the facility, located in the southeast of Moscow, was seen burning. Emergency services told RIA Novosti that flames more than 10 meters high are raging in at least two spots at the refinery, one of which is an incinerator.
No one was injured in the blaze, which was extinguished around four hours after it broke out. It took more than 100 firefighters and emergency services staff to bring the inferno under control. It was initially feared it would spread and engulf the whole plant.
"The morning was good until I saw puffs of smoke and a huge fire behind buildings as I was taking my kid to school. I was terrified as we came closer. What are breathing in?" a woman said on social media network Vkontakte, posting apocalyptic pictures.
Some social media users claim there was a loud bang at the refinery at 7:46am. It is not yet clear what caused the fire.
As the incident sparked health concerns among locals, the emergency services said that hazardous substances did not exceed permissible concentrations.
It is not the first time an inferno has hit the facility, located near a busy traffic artery and populated district. In 2016, a blast rocked the refinery injuring three people, and in 2015, a fire broke out. The facility is owned by Gazprom Neft and has been repeatedly criticized for its alleged emissions of pollutants and hazardous substances. People frequently complain about the smell and excessive concentrations of hydrogen sulfide are frequently reported in the area.
You can share this story on social media: