FEMEN activists in topless stunt against fascist Franco commemoration (VIDEO)
Three topless activists from radical feminist group Femen hit the streets of Madrid on Sunday, disrupting a far-right demonstration that was marking the death of Spain's former fascist dictator, Francisco Franco.
With "legal fascism" and "national shame" written on their bodies, the women interrupted the group of 200 commemorators by running through the crowd. Angry supporters made attempts to stop the women, while others shouted insults along with "Franco! Franco! Franco!"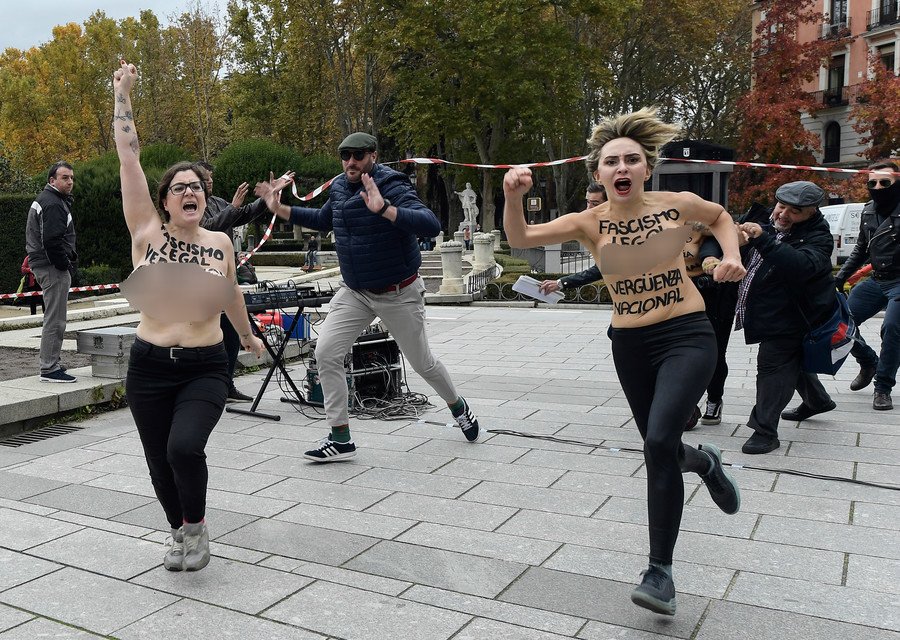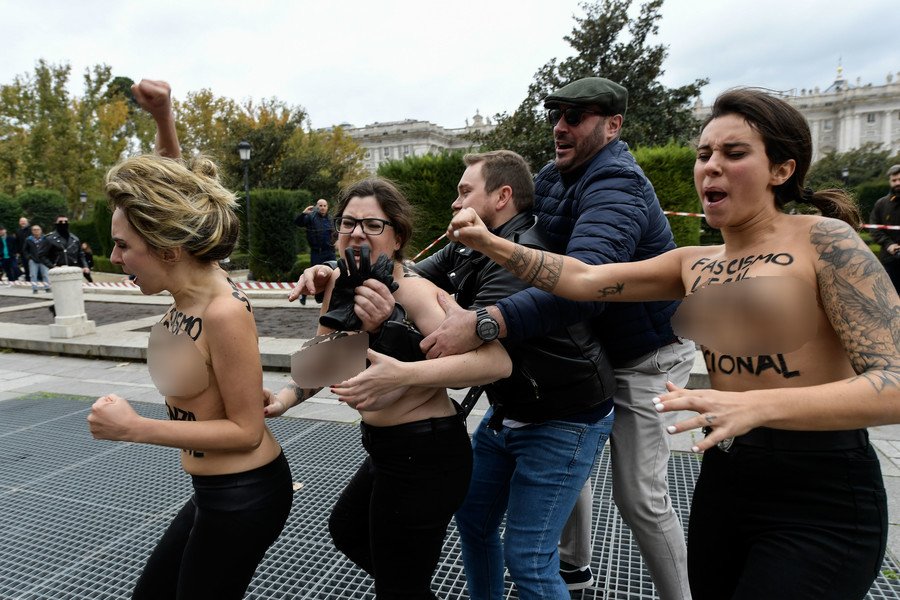 Footage of the stunt shows one of the Femen activists storming a podium. However, she was quickly grabbed by nearby police officers and dragged away from the baying Franco supporters.
In addition to marking Franco's anniversary, the far-right crowd had also gathered to protest against plans by the Madrid government to exhume and move Franco's body from his current resting place in the "Valley of the Fallen" mausoleum to another location.
READ MORE: Fascist salutes seen at pro-Spanish unity demos in Madrid, Barcelona (PHOTOS, VIDEO)
FEMEN weren't the only ones angry over Franco commemorations. Anti-fascist groups gathered outside the Valley of the Fallen, waving flags and carrying pictures of those were were murdered by the regime.
"We've come to the protest with two fundamental objectives," Arturo Peinado, one of the protest's organisers told Ruptly.
"To continue condemning the existence of this monument and to demand its reconversion into a democratic memorial, as has happened with the Memorial Museum in Buenos Aires or with the Holocaust Museum in Jerusalem."
Located an hour's drive north of Madrid, the Valley of the Fallen is a fascist monument commissioned by Franco in 1940 and has since become a site of pilgrimage for those who still revere the former dictator.
Franco, who grabbed power following Spain's bloody civil war and the overthrow of the democratically-elected Spanish Republic, ruled from 1939 until his death in 1975.
Founded in Ukraine 2008, Femen has become infamous for topless protests against sexism, homophobia, war and various social and political issues.
Last week, three Femen activists made headlines after an early morning stunt under the Arc de Triomphe in Paris. The women took aim at world leaders gathering in the city to mark the end of WWI with signs that said "welcome war criminals."
Later that day, another bare-chested protester attempted to charge US President Donald Trump's motorcade, but was nabbed by police before she could reach the vehicles.
Think your friends would be interested? Share this story!
You can share this story on social media: