'Long live Europe?' Macron says only Franco-German union may stop global 'chaos'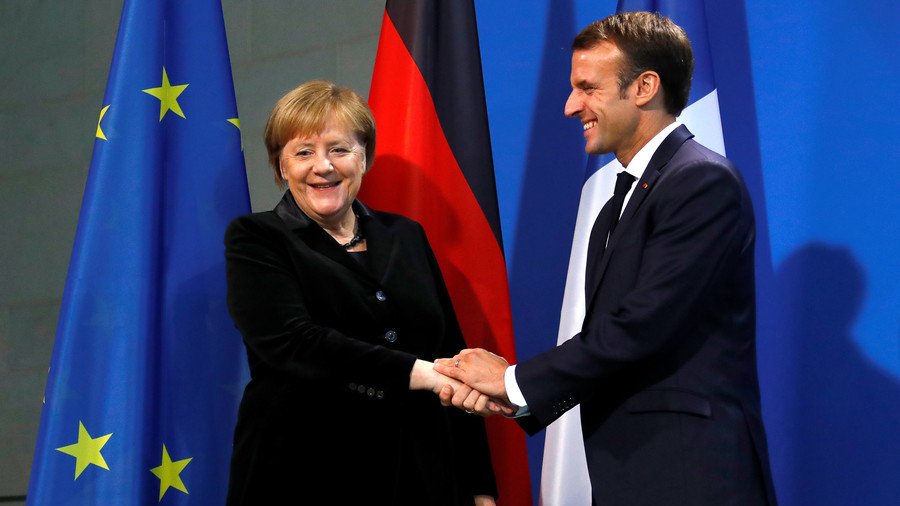 French President Emmanuel Macron has embarked on a charm offensive at the German parliament, hailing cooperation between Paris and Berlin as a protective force against global chaos and foes beyond Europe's borders.
France and Germany are facing the task of making Europe more "resilient" in these times of a renewed rise of nationalism and "opening a new chapter in European history," Macron told German MPs on Sunday, adding that the two countries "owe this to Europe." He then apparently decided to think big, proclaiming that "Europe and the Franco-German pair within it" have to do no less than "not let the world slip into chaos."
And to do that the French leader suggested quite a traditional recipe, saying that "Europe must be stronger" as well as more independent and sovereign, while European nations have to actually give up on quite significant parts of their own sovereignty.
"Each of us has to share their decision-making powers, [harmonize] foreign policy, immigration and development policy as well as [share] an increasing part of the budget and even tax revenues in the spirit of community," he told the German parliament.
To apparently justify such sacrifices, Macron said that "there are powers that attempt to pit us against each other," presumably meaning all those outside the European borders, including Russia, China and even Europe's longstanding ally the USA. The French president seemed to be particularly eager to throw off Washington's oversight over its European allies as he once again promoted his idea of a European Army, which should, according to him, become a symbol of a united continent.
"Europe would never live up to its true role until it assumes full responsibility for its own affairs," the president said, adding that it would otherwise continue to "play a subordinate role in world politics." He also said that Paris and Berlin have a particular responsibility to help Europe gain "necessary sovereignty." "Long live the Franco-German friendship. Long live Europe," he declared.
While repeatedly calling on Europe to take more of this responsibility for its own defense and security, Macron was also quite open about the prospects of this project of his, saying that "this fight is not won and … will never be won."
Both Macron and Chancellor Merkel repeatedly vowed to "reform" the stagnating European Union while constantly calling for European cohesion and unity.
Other countries, however, seem to be moving the other direction, with a number of eurosceptics coming to power.
The EU remains pretty-much divided on such issues as immigration, and Macron himself found staunch opponents to his immigration policies in Italy's Interior Minister Matteo Salvini and Hungary's Prime Minister Viktor Orban.
And while Paris and Berlin seem to be eager to once again push for a European Army – an idea that actually floated around since the early times of Europe's post-war integration but was never properly implemented – other nations seem to be reluctant to support it.
Austria said on Friday it would walk away from it because it is "contrary to the Austrian constitutional position." The Dutch Prime Minister Mark Rutte also expressed his skepticism about the idea, saying that Paris and Berlin were getting ahead of themselves, while also saying that Europe's security could be hard to guarantee without NATO.
If you like this story, share it with a friend!
You can share this story on social media: