Macron doubles down after Orban & Salvini declare opposition to him as 'pro-migration leader'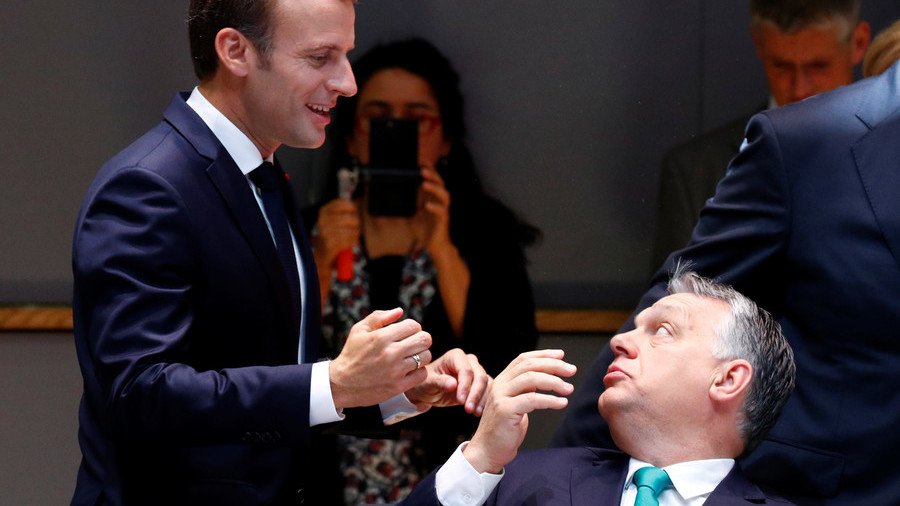 French President Emmanuel Macron said leaders of Hungary and Italy were right to see him as their main opponent, upping the ante in the bitter European debate over immigration policies.
Macron accepted the challenge a day after Italy's Interior Minister Matteo Salvini and Hungary's Prime Minister Viktor Orban criticized him during a joint press conference in Milan. The two officials are among the most vocal critics of the way EU heavyweights, like France and Germany, as well as pan-European authorities in Brussels have been handling the inflow of migrants across the Mediterranean.
Orban, who was once an oddity among EU leaders due to his anti-immigration policies and public statements, has been finding an increasing number of like-minded officials over the past years. Salvini is among the latest additions to the camp, having taken his current position last month after the March general election in Italy brought euroskeptic and anti-immigrant forces to the forefront of political landscape.
During the conference, the two politicians pledged to take a hardline stance on the immigration issues and pledged to oppose Macron, whom Orban described as "the leader of pro-migration parties in Europe."
Commenting on the characterization on Wednesday, the French president said if Orban and Salvini "wanted to see me as their main opponent, they were right to do so."
"It is clear that today a strong opposition is building up between nationalists and progressives and I will yield nothing to nationalists and those who advocate hate speech," Macron said during a visit to Denmark.
The EU faced a political crisis in 2015, when people from North Africa, the Middle East and Asia started arriving in their hundreds of thousands, putting a strain on the European countries' ability to accommodate and process them. The initial response to the influx was a commitment to the open doors policy towards refugees championed by politicians like German Chancellor Angela Merkel.
This however provoked a surge of popularity for right-wing political forces across Europe and opposition from several Eastern European countries, which saw Brussel's attempt to redistribute migrants among all EU members according to quotas. This was perceived as a threat to national identity in the East, with opposing nations like Hungary refusing to take in their share.
While the crisis has since became less acute and the immigration policies of Brussels more conservative, a split remains among EU members on whether much stricter border control and higher requirements for people seeking refugee status in Europe should be put in place.
Think your friends would be interested? Share this story!
You can share this story on social media: