BFFs: Viktor Orban says Italy's Salvini is his 'hero' ahead of Tuesday meeting on migration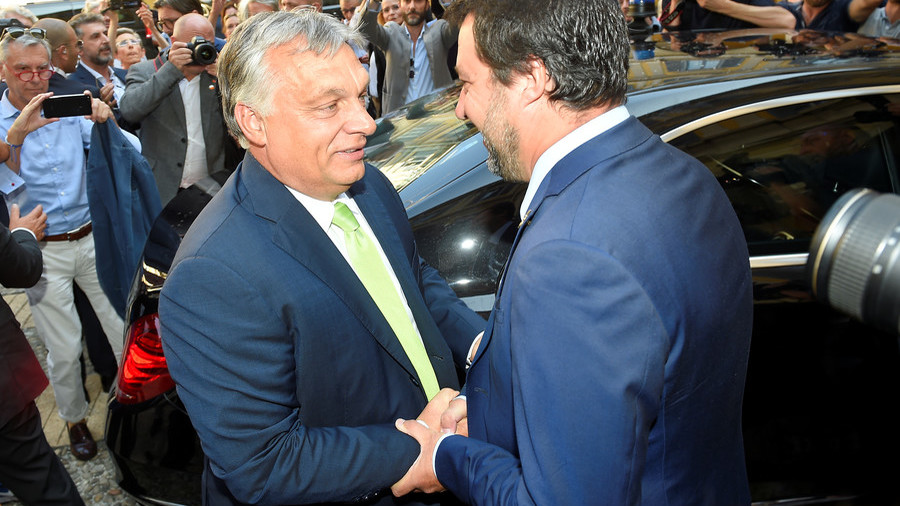 Hungarian Prime Minister Viktor Orban has revealed himself as a huge fan of Italian Interior Minister Matteo Salvini, who he called his "hero" in advance of a meeting between the pair in Milan on Tuesday.
Orban did not mince words about his love for Salvini as he left a restaurant in the city ahead of the meeting, saying that the Italian politician is "a companion of destiny" and that he was "very curious" to learn more about his personality. "I'm a great admirer and I have some experiences that I could perhaps share with him. I have that feeling," he said.
Orban said he had asked his personal friend, former Italian Prime Minister Silvio Berlusconi if he could meet Salvini on his trip to the country. Luckily for Orban, Berlusconi agreed and the two are set to meet to discuss the issue of migration into the European Union — a topic on which they share equally hardline views.
Salvini leads the anti-immigration euroskeptic Northern League Party which formed a coalition government with the anti-establishment Five Star Movement in May after months of negotiations.
As Sicilian prosecutors launched an investigation last week into illegal detention and kidnapping over Salvini's refusal to let migrants disembark from a vessel docked in Catania, Salvini said he was prepared to be arrested and "proud" to defend Italy's borders. The migrants on board were rescued from an overcrowded boat by the coast guard vessel off the island of Lampedusa.
Orban has come under fire for his own anti-immigrant rhetoric and refusal to accept EU refugee quotas, angering Brussels when Hungary constructed a razor-wire fence along its borders with Serbia and Croatia in 2015.
You can share this story on social media: