'Migrant tsunami': Tijuana mayor threatens to deport US-bound migrants amid tensions & clashes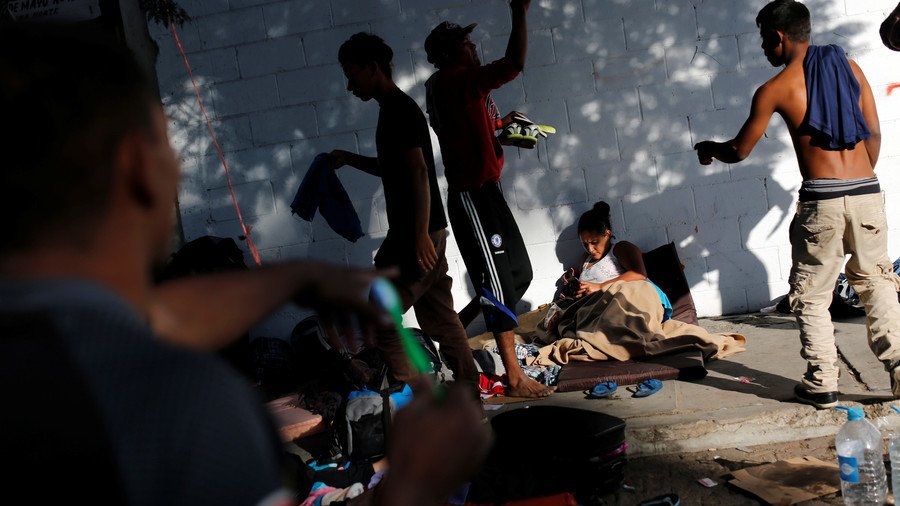 The arrival of growing crowds of migrants to Tijuana has led to increased tensions and clashes with locals, with the mayor warning that those who disturb the "tranquility and security" of his city will be deported.
The arrival of the first members of the caravan to Tijuana triggered an anti-migrant backlash in the Mexican border city. Tijuana's mayor, Juan Manuel Gastelum, is leading the charge to have the troublemakers expelled and is asking the federal government for help to deal with the influx.
"No city in the world is prepared to receive this — if I'm allowed — this avalanche," he said during a news conference at City Hall. "It is a tsunami. There is concern among all citizens of Tijuana."
There will be zero tolerance to any conduct that violates the law and social order. Protecting the safety of the Tijuanans is the top priority.
Any members of the migrant community that are violent will be handed over to immigration authorities so that they be deported to their country of origin, Gastelum said on Friday. In an earlier interview with local TV, Gastelum called the migrants "bums" (vagos) and "pot smokers" (mariguanos) who do nothing but disturb the "tranquility and security of Tijuana."
Tijuana has a long history of welcoming migrants, but it seems to be overpowered by the mass arrivals which, according to the federal government, could reach up to 10,000 in the coming weeks. With the influx of refugees, anti-migrant groups have sprung up on social media calling on their followers to oppose the "invasion."
The virtual opposition turned real Wednesday night when residents of Playas de Tijuana confronted the Central American migrants, demanding that they leave as they "represent a risk to the community."
Throwing stones at migrants in La Amistad Park, located on the Mexican side of the sea border wall with California, they accused them of relieving themselves on public roads and causing unsanitary conditions. After assaulting the asylum seekers to cries of "we do not want you," they chanted "Mexico, Mexico!" and sang the national anthem.
Tijuana police reportedly did little to intervene, but allegedly arrested a Guatemalan and a Honduran for disturbing public order. Three other Central Americans were detained the same day for allegedly smoking marijuana.
The state authorities of Baja California, where Tijuana is located, already accommodated at least 4,000 people prior to the latest influx and said they have no resources to attend to the growing refugee community in a "humane manner." They warned that those who plan to pursue their journey to the US will have to stay in Mexico for at least four months before American authorities can process their asylum requests.
If you like this story, share it with a friend!
You can share this story on social media: