Planning of Khashoggi's 'execution' caught on audio, Turkish reporter claims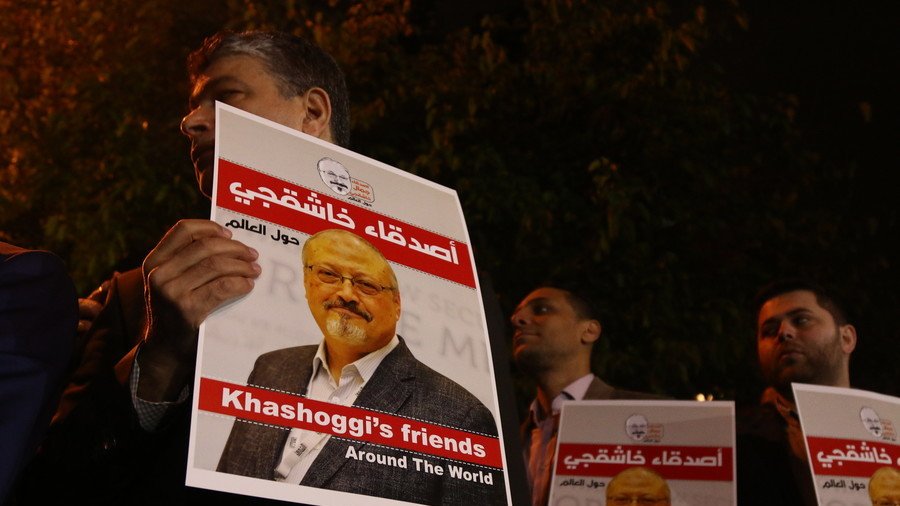 A Saudi team had planned all along to kill journalist Jamal Khashoggi and never tried to talk him into anything, a Turkish daily reports, citing recordings held by police that call Riyadh's statement on the matter into question.
An audio tape, allegedly in the possession of Turkish investigators, features a 15-minute conversation, in which "the Saudi team discusses how to execute Khashoggi," the Turkish Hurriyet Daily wrote on Friday, citing its columnist Abdulkadir Selvi. In a recording that was allegedly made even before the journalist entered the Saudi consulate, "they are reviewing their plan, which was previously prepared, and reminding themselves of the duties of each member," he said.
The Hurriyet report contradicts the statement made by the Saudi deputy public prosecutor, Shaalan al-Shaalan, who said that the team was actually sent to Istanbul to retrieve the journalist and bring him back to Saudi Arabia. A decision to murder the reporter –and outspoken critic of Riyadh– was allegedly taken by the head of the team after its 'persuasion' failed.
Some other audio evidence obtained by the Turkish investigators also allegedly shows that the version of Khashoggi's killing presented by Riyadh just does not add up, Selvi reports. "Khashoggi's desperate attempts to survive could be heard in a seven-minute audio recording. There is no hint of anyone trying to persuade him," he says, referring to another tape, which allegedly proved that "Khashoggi was strangulated in 7-8 minutes."
The journalist and a Washington Post columnist entered the Saudi consulate in Istanbul on Oct. 2, never to be seen again. Turkey then accused Saudi Arabia of killing the reporter. Ankara also repeatedly claimed to have had audio of the blood-curdling murder ever since the journalist went missing.
Turkish President Recep Tayyip Erdogan said in particular that the recordings were shared with the US, French, British and Canadian as well as with Saudi leaders. He also said that a Saudi intelligence officer was "shocked" by what he heard at the recording, which he called "appalling."
However, no official information about the content of the recordings was ever revealed by Ankara. Various unconfirmed media reports suggested that Khashoggi was grabbed, drugged and dismembered with a bone saw. A report by Turkey's Daily Sabah also claimed to reveal the "murder kit" of the Saudi "hit squad" by publishing X ray pictures of their luggage.
Saudi Arabia initially denied killing the journalist but later changed its stance on the issue, several times. Most recently, the Saudi public prosecutor's office admitted that Khashoggi was murdered in an intelligence operation gone wrong.
The Saudi public prosecutor also already requested the death penalty for five people charged with ordering and committing the crime. Eleven people have been charged and 21 are being held for Khashoggi's murder, according to Saudi officials. A former top aide to Saudi crown prince Mohammed bin Salman is also under investigation in connection with the case, they added.
The high-profile affair also drew some reaction from the US, which was, in fact, quite restrained, even though the words were harsh as the journalist worked for the US media. Washington limited itself to sanctioning the Saudi crown prince's former top aide as well as 16 other Saudi nationals it believed might have been involved in the murder, including the Saudi Consul General in Istanbul. President Donald Trump refused to review or cancel US arms deals with Riyadh worth tens of billions of dollars.
Think your friends would be interested? Share this story!
You can share this story on social media: