Black or brown? Twitter explodes over Juncker wearing 'different' shoes (VIDEO)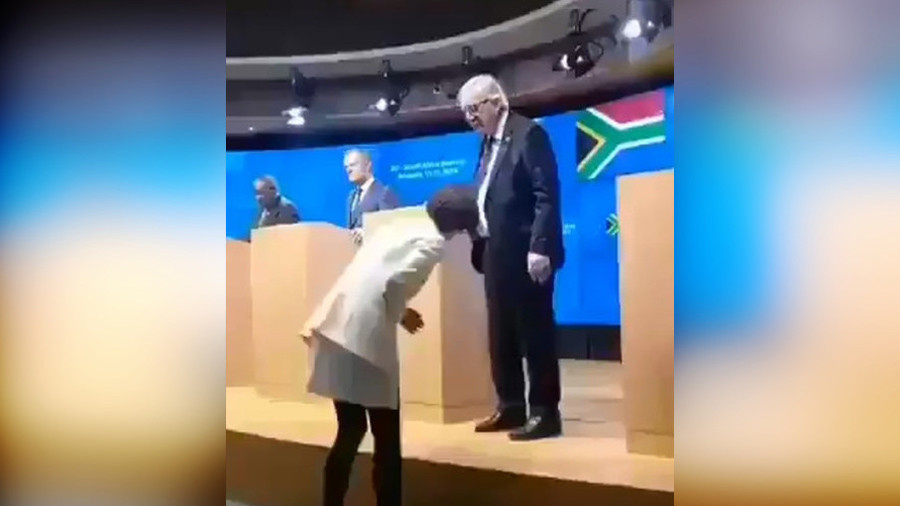 A Twitter storm broke out after it was suggested that Jean-Claude Juncker was wearing shoes of different color during a press briefing. Some blamed it on alcohol, but there might be a bit more to the story.
A video uploaded on Twitter shows European Commission President Jean-Claude Juncker finishing up a news conference in Brussels. At one point, as Juncker turns around at the podium, his left shoe appears to be black while his right one seems to be brown.
As he leaves, the colors shoes merge into one, suggesting a possible optical illusion. However, the video also shows a woman approaching Juncker and both are seen looking at his footwear. The EU official is then seen walking away.
The Twitterati, anyway, did not miss a chance to pick on Juncker. Some pointed to his presumed affinity for strong spirits, while others said the European Commission chief reflects the dire state of the EU.
READ MORE: Drunk or in pain? EU's Juncker filmed stumbling at NATO summit (VIDEO)
When someone drinks to much, one can't see the difference anymore between black and brown😂

— Chris (@Chrisnbv) November 16, 2018
Looks like he's nipping off for a quick sip of something.😉😉

— dstlouislittle (@dstlouislittle5) November 16, 2018
Some even say the shoes contained some kind of political message.
I wish that color blindness could apply to skin color.

— David West (@arsenalcode) November 16, 2018
Heard of wearing different color socks, but not shoes.

— Rusty Todd (@TRussellTodd) November 16, 2018
The footage was taken after Juncker's press conference with South African President Cyril Ramaphosa and European Council President Donald Tusk. Nevertheless, Juncker's shoes are of the same color (black) in an official photo taken either before or after the event.
Juncker, 63, is no stranger to odd moments such as this. Over the past couple of years, he has been caught on film losing his balance and stumbling into world leaders, as well as greeting them with face slaps and kisses.
Like this story? Share it with a friend!
You can share this story on social media: