'Drunk' EU chief Juncker face slaps world leaders at summit in resurfaced viral video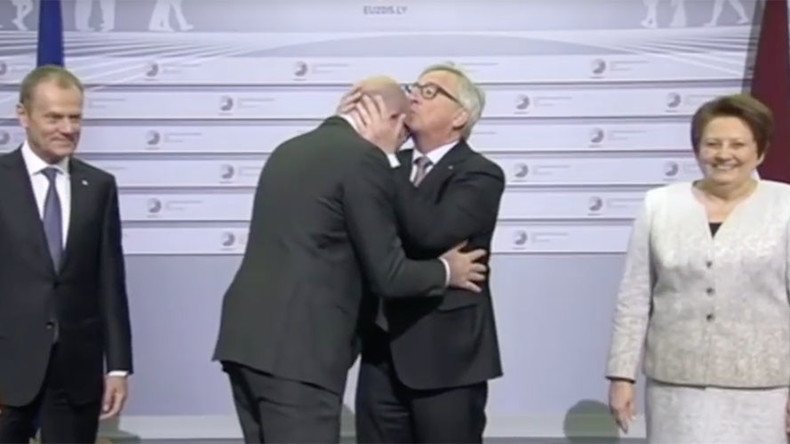 A video of Jean-Claude Juncker, the European Commission President, in a strangely boisterous mood at an EU summit last year has provoked a belated social media storm, weeks before Britain votes on whether to stay in the union.
The footage showing Juncker's unorthodox diplomacy was shot during the EU-Eastern Partnership summit, which was held on May 21-22, 2015 in Latvia. While it was posted last year, it has been rapidly gathering views and media coverage in the past few days.
Standing in front of the cameras alongside fellow EU official Donald Tusk, who heads the European Council, and the host nation's prime minister, Laimdota Straujuma, Juncker made a number of friendly gestures which may seem too frivolous for the occasion.
He slapped several fellow leaders on the face, according to a video of the event published last week, and kissed some on the cheek. Another guest he asked to bow so that he could kiss his balding head.
I'm very fond of this video of Juncker being drunk because that's exactly the same sort of drunk I tend to get: https://t.co/05bCynDREm

— Marie Le Conte (@youngvulgarian) June 3, 2016
With two male delegates, Juncker compared the color of their ties. He also jokingly reproached Greek Prime Minister Alexis Tsipras for not wearing one.
Juncker greeted Spanish Foreign Minister José García-Margallo y Marfil with a military salute. The perplexed politician, who has no military background, awkwardly returned the compliment.
Earlier media reports mentioned Juncker's cheery disposition at the media conference, buy they focused on the way he introduced the approaching Hungarian Prime Minister Viktor Orban with the words: "The dictator is coming." Orban is known for his Eurosceptic views and is accused of attacking democratic values by critics.
The EU official has long been speculated to be a heavy drinker and previously demonstrated off behavior in public. At the time of his nomination in 2014, the Financial Times joked: "Perhaps the next EU President could have one of those slogans on the office wall – 'You don't have to be drunk to work here, but it helps.'"
You can share this story on social media: