Tomb of French Nazi collaborator vandalized after Macron sparks outcry over his praise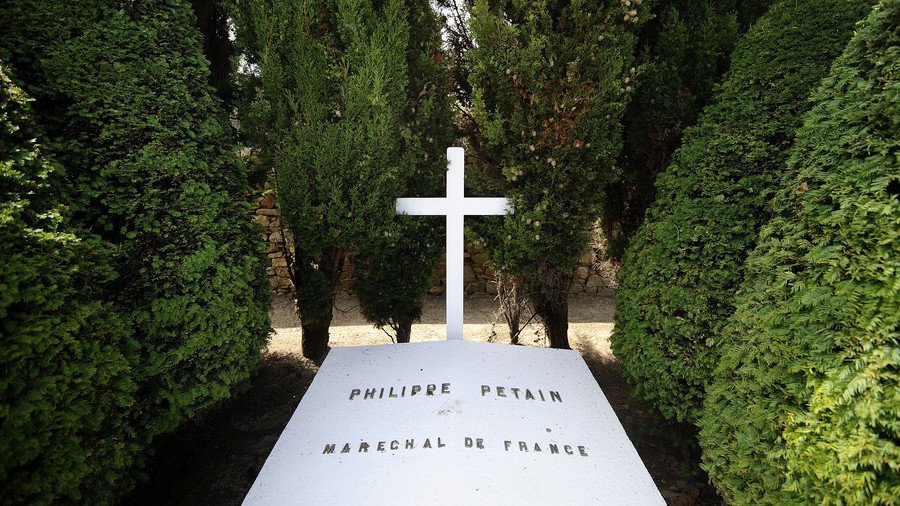 After widespread backlash over President Emmanuel Macron's praise for a top military chief-turned Nazi collaborator, it looks like locals just don't want Marshal Philippe Petain to rest in peace, as his tomb has been vandalized.
The military chief's tomb on Yeu Island was defaced last weekend, as its wooden cross was torn apart and "For my father" was scrawled in black on its surface, French news outlet Le Parisiene reports. It is the third time that the tomb has been damaged. It was first defaced in 2007 and then again in 2016.
According to Sables-d'Olonne prosecutor Carine Halley, the tomb was found vandalized on the morning of November 11, the same day commemorations were held worldwide to mark 100 years since the end of the First World War.
France's leader Emmanuel Macron faced widespread backlash after he praised Petain for his efforts during World War I.
Speaking in the town of Charleville-Mezieres, a stop on his six-day tour of the battlefields ahead of Remembrance Sunday, Macron said: "Marshal Petain was also a great soldier during World War I" even though he made "fatal choices during the Second World War."
While Petain should indeed be credited for leading France to victory at Verdun in 1916, he was subsequently convicted for treason over his role as a leader of Vichy France between 1940 and 1944. He is most despised for his complicity in the Holocaust, as he helped to downgrade Jews to second-class citizens and assisted German soldiers in rounding them up for concentration camps.
Macron's comments drew the ire of opposition leaders and French Jews.
"The only thing we will remember about Petain is that he was convicted, in the name of the French people, of national indignity during his trial in 1945," said Francis Kalifat of the CRIF association of French Jewish groups.
Meanwhile, former presidential candidate Jean-Luc Melenchon hit out on Twitter, saying: "Macron, this time, it's too much. The history of France isn't your toy. This anti-Semitic traitor cannot be amnestied by the caprice of Macron."
Think your friends would be interested? Share this story!
You can share this story on social media: