US calls for end to South China Sea militarization, China says to stop sending warships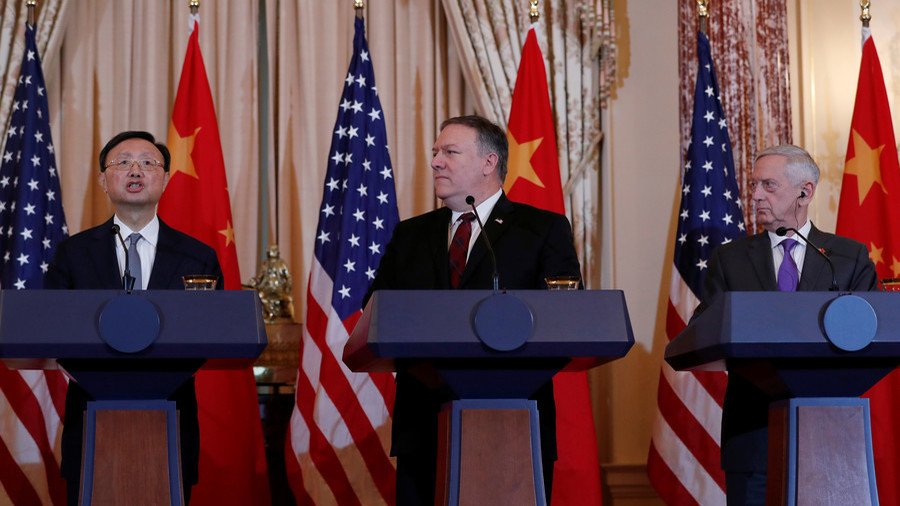 The US pressed China to halt militarization of the South China Sea during a joint news conference on talks aimed at smoothing already tense relations ahead of this month's G20 summit in Argentina.
"We have continued concerns about China's activities and militarization in the South China Sea," US Secretary for State Mike Pompeo told media following talks on Friday with US Defence Secretary James Mattis and their Chinese counterparts.
"We pressed China to live up to its past commitments in this area," he added.
In response, Chinese Politburo member Yang Jiechi said the situation in the South China Sea was "treading towards greater stability," but rebuked Washington over its sending of warships and military aircraft near Chinese islands and reefs, in what he described as actions that undermined Chinese interests.
Mattis, however, maintained that the US would continue to send warships to the area as it was necessary to preserve access to the South China Sea for itself and others in accordance to international law.
The South China Sea is home to several disputes between China and its neighbors over who owns its many islands and reefs. Claimants want access to fishing rights, exploration of potential natural gas and crude oil deposits and control of its shipping lanes through which an estimated $5 trillion worth of trade passes through each year.
READ MORE: China's Xi tells military to prepare for war as US Navy warns of high seas encounters
Other states, like the US, want the sea to remain international waters.
The issue was one of several discussed by the US and Chinese delegations during Friday's meeting which included their ongoing trade dispute, Taiwan, and China's ongoing treatment of its Muslim minorities.
READ MORE: 'Behave like a normal nation!' US tells China to obey laws, not cause 'decades of pain' globally
It is hoped that the talks will quell tensions that have affected relations between both countries in recent months and may even pave the way for a meeting between US President Donald Trump and Chinese President Xi Jinping on the sidelines of the Group of 20 (G20) summit scheduled for Argentina at the end of November.
In a statement on Saturday, China's Foreign Ministry called the talks "frank, constructive and very fruitful."
Think your friends would be interested? Share this story!
You can share this story on social media: