8% of Germans would approve dictatorship, while even more welcome 'strong-arm' leader – study
Published time: 8 Nov, 2018 16:19
Edited time: 9 Nov, 2018 10:32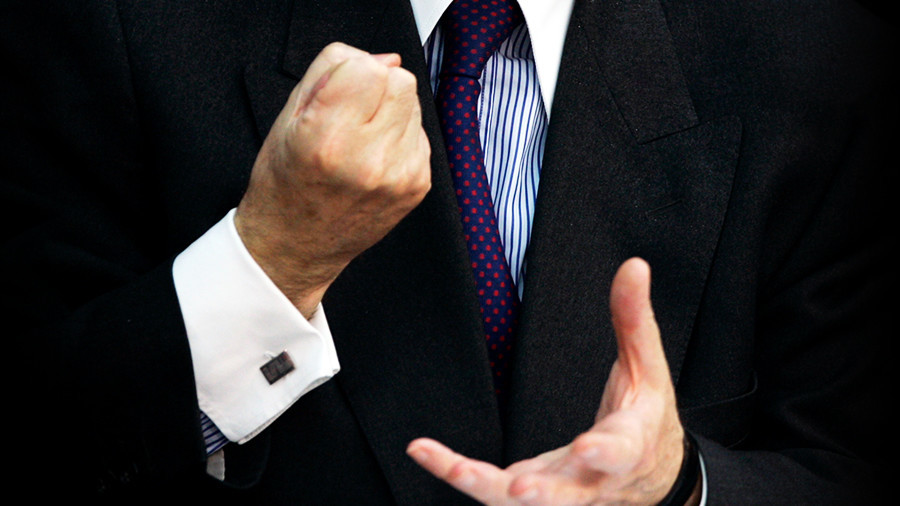 Under certain "circumstances," some 8 percent of Germans are OK with a dictatorship as a form of government, while even more would welcome a leader ruling Germany with "a strong hand," research has found.
While the majority of the country surely bears no nostalgic feelings about such forms of governance, a new study suggests some are not against the idea. A report compiled in cooperation with two major think tanks found that as many as 7.9 percent of Germans believe that dictatorship would serve national interests better than anything else "under certain circumstances." Some 18.6 percent were described as latent supporters of the idea.
Dictatorship basically comes with a cult of personality, and this is where eleven percent of respondents said there should be a leader "who rules Germany with a strong hand for the good of all."
The survey shows slightly a similar ratio in questions targeting other sensitivities of the country's past. Some eight percent said "Nazism had its own positive sides" while slightly more agreed that Hitler could have become "a great statesman" if he did not unleash the Holocaust.
Antisemitism, a centerpiece of Nazi racial policy, still exists in Germany with one in 10 people saying they felt Jews still have "too much of an influence even today."
"Our current survey shows quite clearly that xenophobia is becoming increasingly widespread throughout the country," says study director Oliver Decker. Moreover, there is an increasing number of people willing to crack down on political opponents, the scholar warned.
Still, a sizeable part of German population reject authoritarianism and stand for democracy, Decker noted: "We can say that 30 percent of the population has a decidedly democratic attitude."
RT's Peter Oliver also tried to gain insight into German hearts and minds by asking people in Berlin to provide their take. "This is our past, it cannot be allowed to become our future," said one lady.
However, "it doesn't surprise me because I see the people [supporting those views]," another man told RT. The reasons for that could be hidden in the 2015 refugee crisis, some alleged.
Back then, over a million migrants entered Germany, with unease over the issue draining support for Chancellor Angela Merkel. It also propelled the right-wing Alternative for Germany (AfD) party to skyrocketing popularity. Despite being a very young political force, the latter now has seats in all 16 German federal states as well as in the federal parliament (Bundestag).
Like this story? Share it with a friend!