Yemen-bombing Saudi Arabia says it 'stands with' suffering Yemeni children in govt poster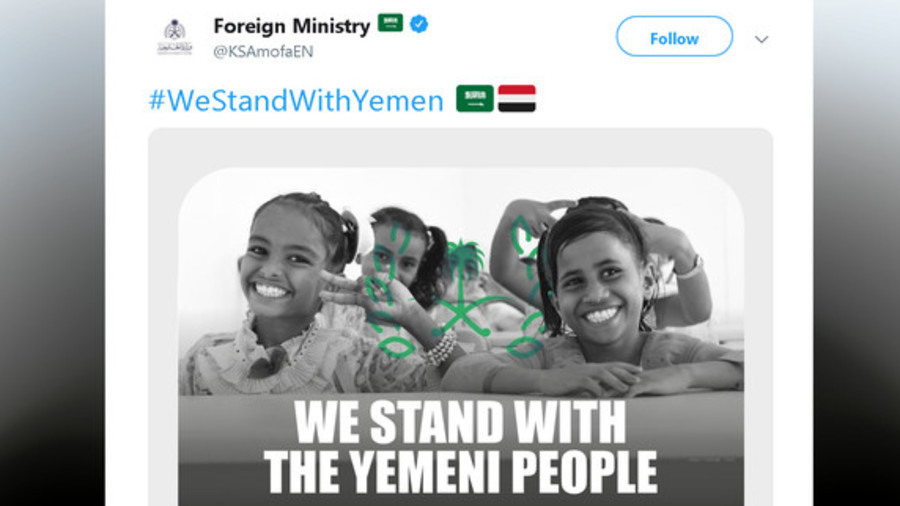 Who do you think cares about Yemeni children facing starvation amid the Saudi-led armed intervention? Rights groups, relief agencies? Saudi Arabia insists it's them.
Three years into the Yemen war, Saudi Arabia, which spearheaded the 2015 military intervention, says it "stands" with Yemenis. "Your children – our children," reads a really questionable poster released in a tweet by the ministry.
To support their claim, the post, bearing the 'We Stand with Yemen' hashtag, features smiling faces of children along with emblems of Saudi government agencies, such as Communication and Media Center and the Foreign Ministry itself.
The Saudi message may indeed be questioned by anyone following updates on the humanitarian crisis raging across Yemen. Famine had in fact become the face of that war, and aid agencies say children are among the most affected by the lack of food and healthcare.
As many as 400,000 Yemeni children are suffering from what UNICEF calls"severe acute malnutrition" right now. The situation is likely to become even worse as a major port in Hodeidah province, through which humanitarian supplies, fuel and commercial goods are delivered, is destroyed, damaged or blockaded by Saudi Arabia or its allies.
Yemen, one of the poorest countries in the Arab world, is now "the worst place to be a child," the UN agency opined last year.
Humanitarian crisis aside, the death toll from the Yemen conflict is climbing as the war goes on. Recently, a damning UN report has blamed all sides in the conflict of committing war crimes.
Airstrikes by the Saudi-led Arab coalition were found to be responsible for most of the documented civilian casualties, and UN investigators said that these air raids indiscriminately targeted"residential areas, markets, funerals, weddings, detention facilities, civilian boats and even medical facilities."
Think your friends would be interested? Share this story!