Flower power battle? Twitter abuzz as Poroshenko takes leaf out of Putin's book with Merkel bouquet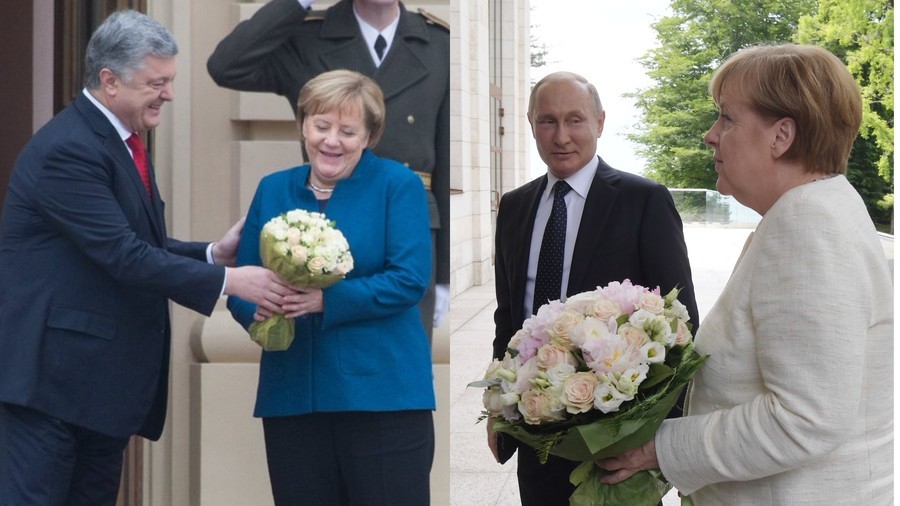 Petro Poroshenko greeted Angela Merkel with a bouquet of flowers that looked suspiciously like the ones Vladimir Putin gave her six months ago. The floral familiarity was spotted by some eagle-eyed Twitterati.
Ukraine's Petro Poroshenko was filmed greeting German Chancellor Angela Merkel in Kiev, which she attended for an official visit. Shortly after her arrival, Merkel fell victim to Poroshenko's doorstep charm offensive, which came in the form of white-and-pink flowers and a wholesome smile.
"I am happy to welcome the federal chancellor of Germany in Ukraine," the president tweeted.
However, the stylish bouquet appeared to be strikingly similar to the one Merkel received from Vladimir Putin ahead of their meeting in Sochi last May.
At that time, Putin's flowers made quite a stir, with German tabloid Bild even suggesting that giving a bouquet to a woman was a thinly veiled political insult and a manifestation of machismo.
This time though, some Twitterati speculated that the Ukrainian president had embarked on a bizarre challenge to outdo his Russian counterpart in terms of floral diplomatic gifts.
At first, users were just posting photos and making comparisons.
At one point, a social media user accused Poroshenko of being greedy, claiming that his bouquet was "three times smaller" than that of Putin.
Size of the bouquets aside, Merkel seemed to be equally happy on both occasions. It looks unlikely that she noticed any difference in the way she was treated here and there.
Like this story? Share it with a friend!