China's first private rocket effort fails mid-launch (VIDEO)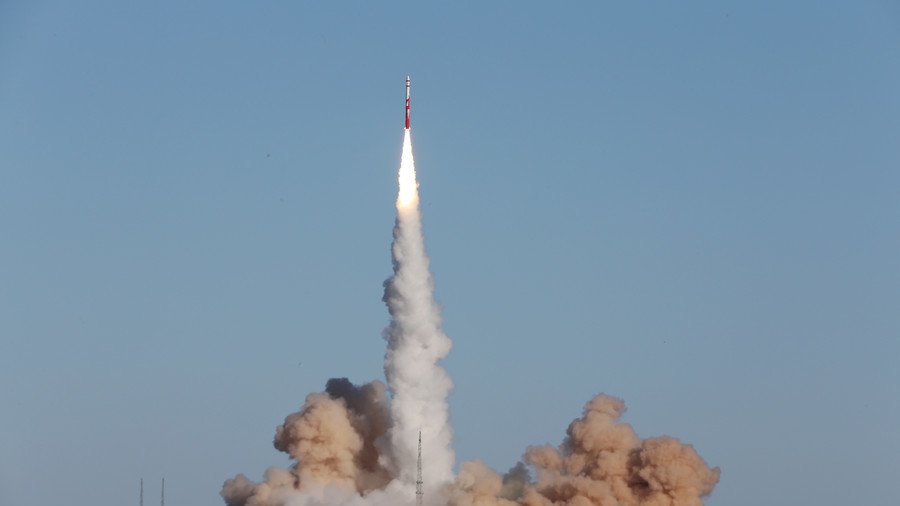 China's first privately-built space rocket has failed to make it to orbit after something "abnormal" happened during the third stage of lift-off from the Jiuquan Satellite Launch Center on Saturday.
Beijing-based 'LandSpace' was the first private company in China to build a three-stage rocket. They said the first and second stage of its Zhuque-1 (ZQ-1) rocket launch went off without a hitch, but something went terribly wrong in the third and final stage.
READ MORE: Oxygen discovery 'completely changes' potential for life on Mars - study
"If the launch mission can go well, the ZQ-1 will become China's first private carrier rocket that can send satellites into space," said LandSpace CEO Zhang Changwu ahead of the groundbreaking launch, which followed nine months of development.
China's first private-sector commercial launch vehicle, Zhuque-1, developed by Beijing-based private space company LandSpace, failed to send a satellite into orbit after being launched from Jiuquan Satellite Launch Center in NW China's Gansu on Sat. No other details are available pic.twitter.com/DOKozEnfX3

— Global Times (@globaltimesnews) October 27, 2018
Video footage of the disastrous rocket launch shows the 19-meter-tall (62 ft) spacecraft lifting off into clear blue skies. It was reportedly carrying a satellite for the Chinese state broadcaster CCTV, with a takeoff weight of 27 tons and a thrust of 45 tons. It cost a reported $14 million to develop.
LandSpace said in a Weibo post about the launch failure that "the first and second levels worked normally, the fairing separated normally, and the third level was abnormal." They did not elaborate further on the details of the incident.
"We are convinced that 'direct carrier rockets' is the right decision [for the company]," the statement continued. "Today, LandSpace is the first company in China to obtain a Chinese private carrier rocket launch license. It is the first private company in China to erect a three-stage launch vehicle."
"In the future, LandSpace will continue to move forward."
While this venture failed, the next attempt shouldn't be far behind. China currently has more than 60 private commercial space companies vying to reach the first milestone.
This week wasn't all bad for Chinese space projects, however. The Chinese company Shanghai ManWei Technology launched the world's first space gene bank into orbit on Thursday. The bank holds genetic material from eight Chinese citizens which will be stored in space for thousands of years.
Think your friends would be interested? Share this story!
You can share this story on social media: