Khashoggi's son shakes hands with Saudi rulers in awkward meeting after reports of body parts found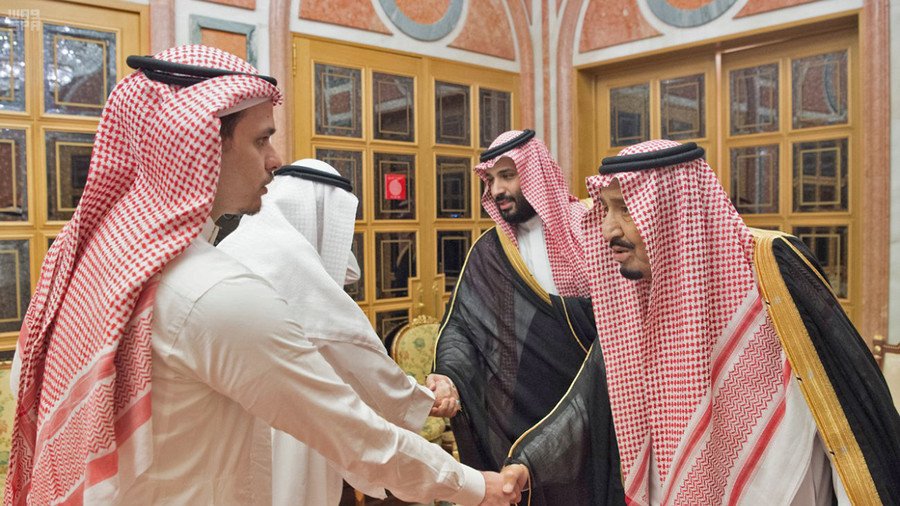 In what is surely one of the worst cases of adding insult to injury, the son of slain journalist Jamal Khashoggi was brought to meet Saudi Arabia's rulers who offered condolences amidst accusations that they ordered the murder.
Saudi Arabia's King Salman and Crown Prince Mohammed bin Salman met with both Khashoggi's son Salah and his brother Sahel in Riyadh on Tuesday, the state-run news agency SPA reported.
Pictures of the cynical photo-op quickly appeared online, showing an uncomfortable and unhappy looking Salah bin Jamal Khashoggi shaking hands with the Saudi crown prince as a guard looked on in the background.
Salah has reportedly been banned from leaving Saudi Arabia for the past year. Global Opinions editor for the Washington Post Karen Attiah said that in her conversations with Khashoggi (a contributor to the paper), he had been "most upset" that Riyadh had imposed travel bans on his children in order to "put pressure on him" over his critical writings.
The meeting took place as unconfirmed reports were emerging that Khashoggi's body parts had been found in the garden of the Saudi consul general's home nearby the consulate where the journalist was murdered.
A photo is worth a thousand words they say. #Khashoggi's son (pic on right) looks absolutely distraught to be forced into this farse. Shaking the hand of the man who ordered the brutal murder of your own father in order to keep yourself and your family safe from more brutality. pic.twitter.com/sOpm43Uceo

— Elizabeth King (@ElizabethKing) October 23, 2018
Meanwhile, CIA director Gina Haspel has traveled to Turkey to assist the ongoing investigation into Khashoggi's death, but her presence has sparked speculation that she will attempt to convince Turkish President Recep Tayyip Erdogan not to release information which would implicate the Saudi crown prince, a US ally, in the journalist's murder.
Think your friends would be interested? Share this story!
You can share this story on social media: