'Propaganda' shall not pass? French govt spokesman admits barring RT & Sputnik from the Elysee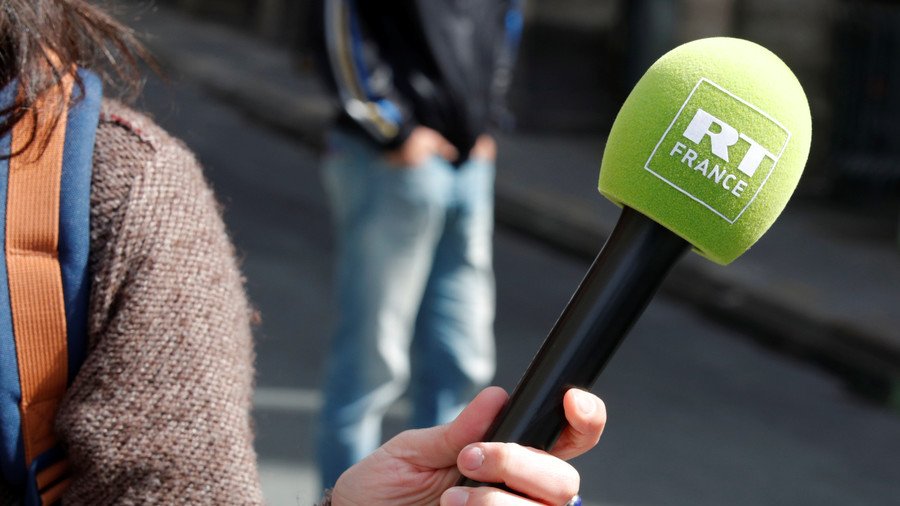 France's government spokesman has finally acknowledged that he intentionally barred RT and Sputnik from covering Elysee Palace events, after all the evasive language the outlets were previously fed.
"There are two media outlets, which I deny from entering the Elysee Palace. It's Russia Today and Sputnik. That's because I don't consider them to be media, but propaganda arms, funded by a foreign nation," Benjamin Griveaux, the government spokesman, told puremedias.com outlet.
"And I know how to differentiate between propaganda, paid for by a foreign nation and opinion journalism, which doesn't pity us but which respects the code of journalism and ethics of journalism."
While the official stressed the fact that the two media outlets were funded by a "foreign nation," it remained unclear how exactly one tells legit "press" from some vile "propaganda."
Well, if the foreign state funding was the key, French President's press room would be a barren place.
Asked whether such a ban might somehow damage press freedom, Griveaux insisted that barring RT and Sputnik from the French President was a totally legitimate thing to do. Again it's unclear how, because he just repeated himself: "They are not journalists, they are making propaganda. It's not the same thing."
This is the first time a French government official admitted that the Russian outlets were blacklisted for reasons other than bureaucratic ones. It is believed that Emmanuel Macron has been holding a grudge against RT and Sputnik from the early days of his presidential campaign.
Back in 2017, Macron's campaign refused to accredit the news channel's reporters from covering the first round of the presidential race citing technical reasons. "You do not have permission, I'm sorry [...] we have a quota, here [...] I have no more information to give you," a Macron staffer told RT France crew at the time. This was despite RT having sent many requests for accreditation long before the event.
Since then, RT crews had heard an array of bizarre explanations meant to justify barring them from attending government events. In January 2018, for instance, RT France was stopped from covering Macron's visit to Rome.
"We made all requests for accreditation… We sent our file and it was accepted upstream by the Elysee, but as soon as we set foot on the Italian soil, the press service of the Elysee stopped responding," RT's Kyrill Kotikov, covering the trip, said.
Only a week later, Kevin Berg, working for RT France, was denied entry to the Elysee Palace to cover a technical briefing of Macron's upcoming visit to Calais. After looking at the journalist's press card, the government media officer barred Berg from entering, saying: "Oh no! You are not a journalist, we only bring in the journalists."
RT Editor-in-Chief Margarita Simonyan reacted to the news, saying: "President Macron, who protects the baguette instead of freedom of speech, should carefully reread the constitution of France." She was referring to Macron's call for France's traditional baguette to be listed as UNESCO's "intangible heritage."
It remains to be seen if Paris' crusade against RT and Sputnik goes further, but some how-to manuals are already there. Last week France adopted the so-called 'fake news' bill that gives Paris the power to take any network that is "controlled by, or under the influence of a foreign power" off the air.
Moscow has pledged to retaliate if an official blacklisting of RT and Sputnik takes place, warning that it would likely affect "sensitive" spheres within Russia-France relations.
Subscribe to RT newsletter to get stories the mainstream media won't tell you.
You can share this story on social media: