Assange sues Ecuador for 'violating fundamental rights & freedoms' over new set of 'censure' rules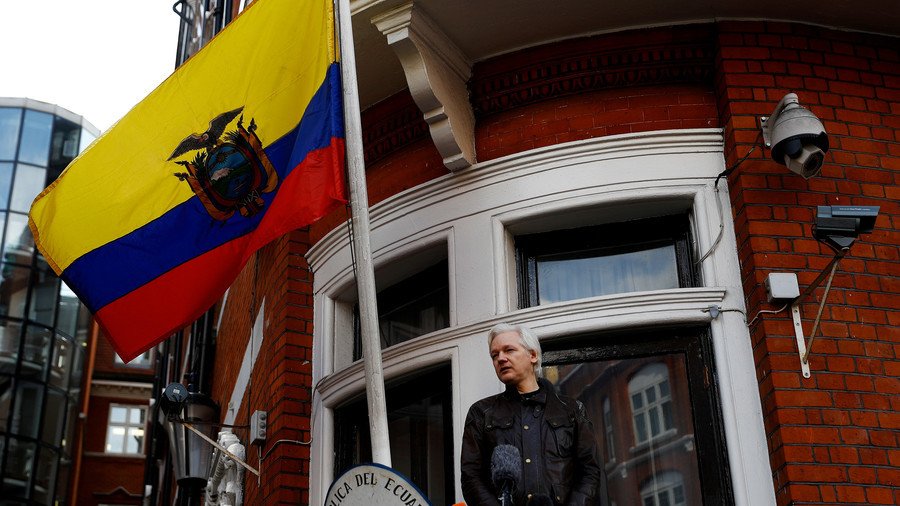 Wikileaks founder Julian Assange is suing Ecuador, accusing it of violating his "fundamental rights and freedoms." It comes after the nation issued a new set of rules for Assange, who has lived in its London embassy for years.
The whistleblowing website says Assange's access to the outside world has been "summarily cut off," and that Quito has threatened to remove the protection granted to him since being given political asylum.
It also claims that Ecuador's government has refused to allow Assange to be visited by Human Rights Watch general counsel Dinah PoKempner and has blocked several meetings between him and his lawyers.
In a statement, Wikileaks questioned the legality of the "Special Protocol" laid out to Assange by Ecuador, which was reported earlier this week and "makes Assange's political asylum contingent on censoring his freedom of opinion, speech, and association."
It goes on to state that the protocol requires journalists, lawyers, and anyone else seeking to see Assange to "disclose private or political details such as their social media usernames, the serial numbers and IMEI codes of their phones and tablets with Ecuador--which the Protocol says the government may 'share with other agencies'."
The protocol, according to Wikileaks, also states that the Ecuadorian Embassy can seize the property of Assange and his visitors and hand it over to British authorities without a warrant.
The case, which is being launched in Ecuador by Wikileaks lawyer Baltasar Garzon, is expected to be heard in a domestic court next week.
Ecuador cut off Assange's communications in March, after he discussed topics on social media which could have allegedly damaged the country's diplomatic relations. Those topics included tensions between London and Moscow and Catalonian separatism.
His internet and mobile phone access were partially restored on Sunday, according to both Wikileaks and Assange's legal adviser Greg Barns.
READ MORE: Ecuador restores Assange's communications after 7-month blackout – WikiLeaks
But along with the partial restoration of internet came the protocol, in a nine-page memo which also included telling him that he must refrain from making political statements and clean the bathroom in the embassy.
It also threatened to confiscate Assange's cat if he didn't take better care of its "well-being, food, and hygiene."
Assange has been living in the Ecuadorian embassy in London since June 2012 in an effort to avoid being extradited to the US over the publication of thousands of classified US diplomatic cables. He fled to the embassy after skipping bail in the UK.
Assange previously faced charges of sexual assault in Sweden, though those were later dropped. He always insisted he was willing to go to Sweden to answer the charges, but refused to do so - fearing that Sweden would extradite him to the US.
Like this story? Share it with a friend!
You can share this story on social media: