Don't trick true friend! VIDEO of dog pulling 'drowning' girl out of pool by her hair goes VIRAL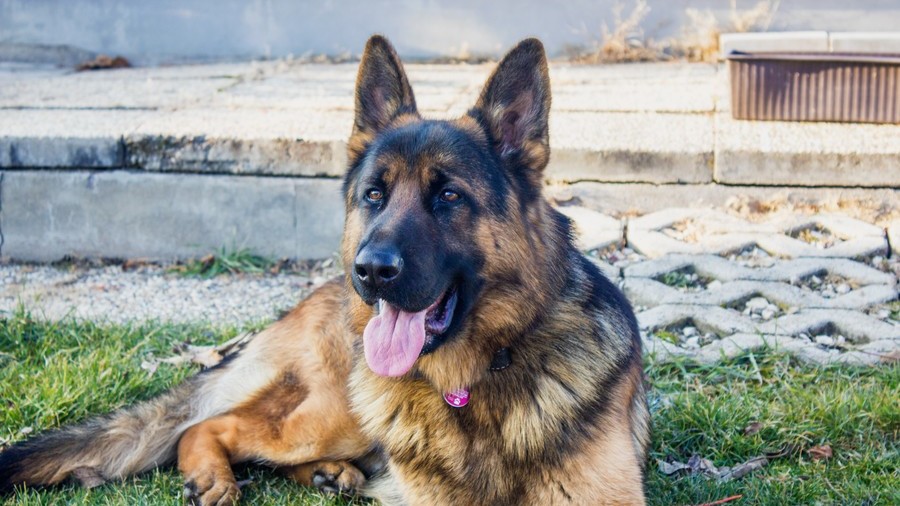 Dogs never seem to miss an opportunity to prove that they truly are man's best friend. The latest hilarious example is the moment a loyal German shepherd leaps into a swimming pool and drags a "drowning" girl to safety.
The hero at the center of the story is one-year-old Kaiser, who was relaxing by the poolside with his owner, Lauren Bright, at her home in Michigan.
READ MORE: Ruff play: Top tier football match interrupted by dog hunting for belly rubs (VIDEO)
When Bright's friend Bria starts joking around and pretending to drown in the pool, Kaiser's protective instincts immediately spring into action. He leaps into the pool, grabs a clump of her ponytail in his mouth, and starts paddling her to safety.
Video footage of amusing incident shows a confused Bria struggling to grasp what is happening while Lauren is almost breathless with laughter. "He's trying to save you! He's saving you," she exclaims.
The video was posted on Facebook in August and has now been viewed over 500,000 times. However, in recent days the footage went completely viral and various copies of it have racked up millions of views.
In a message accompanying the original version of the video, Lauren outlines why Kaiser's adorable heroism is even more impressive than it first appears.
READ MORE: WATCH cute robot dog shaking booty… while probably plotting destruction of human race (VIDEO)
"A few months prior to this video, Kaiser was terrified of water. He fell in a creek around four months old when the water was freezing, so he wouldn't go near water for a long time," she explained.
"Then in spring, I started to get him to follow me in the water. After many pool and pond visits, he conquered that fear. He also was never trained to 'rescue,' and this video just so happened to be filmed the very first time he had ever jumped in and swam Bria to safety."
Like this story? Share it with a friend!