Macron's life advice spurned: Gangster from 'middle finger' pic arrested for drugs possession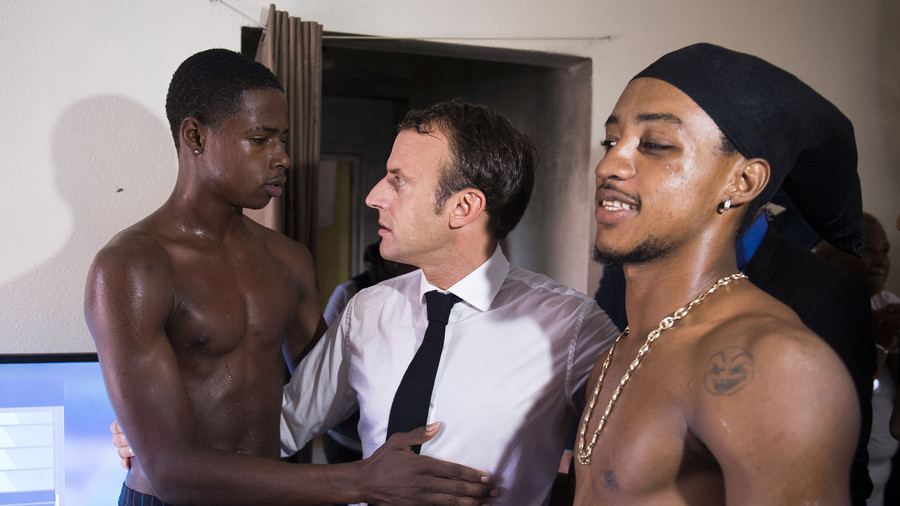 A man who posed with Emmanuel Macron in a viral 'middle finger' pic has been caught in possession of drugs, effectively snubbing the French president's advice to turn his life around.
Reaulf Flemming, better known as Raul, was arrested for drug possession and resisting arrest when searched by police on the Caribbean island of Saint-Martin on Sunday, according to local reports.
He met Macron during the president's 2017 trip to see reconstruction efforts on the island in the aftermath of Hurricane Irma.
While visiting one of the houses being built, Macron was filmed talking to a bare-chested Raul, who admitted that he used "to be a robber" and was recently released from prison.
A casual Macron took the opportunity to impart some civic life advice, telling the young man that he should leave his criminal past behind and help to rebuild his country.
However, the meeting only went viral last month after pictures surfaced of Raul posing with a smiling Macron. Raul's cousin is also in the picture and he's the reason the image became so infamous, as he is pictured giving the middle finger.
After the media buzz started, one French paper dug deep, saying Raul had links to an armed gang that ran a cocaine market from neighboring Guyana.
At first, it seemed Raul had actually been inspired by Macron. In one interview, he said the encounter gave him "great motivation" to turn his life around and he was even thinking of working as a plumber.
However, one year on, Raul's path to redemption hasn't been going according to plan, with police finding 25 small bags of cannabis and seven ecstasy pills on him during their recent search.
To make matters worse, he attempted to flee and has also been charged with resisting arrest. He appears in court on Thursday morning.
Think your friends would be interested? Share this story!
You can share this story on social media: