'Middle finger affair': Macron lands in 'embarrassing' picture controversy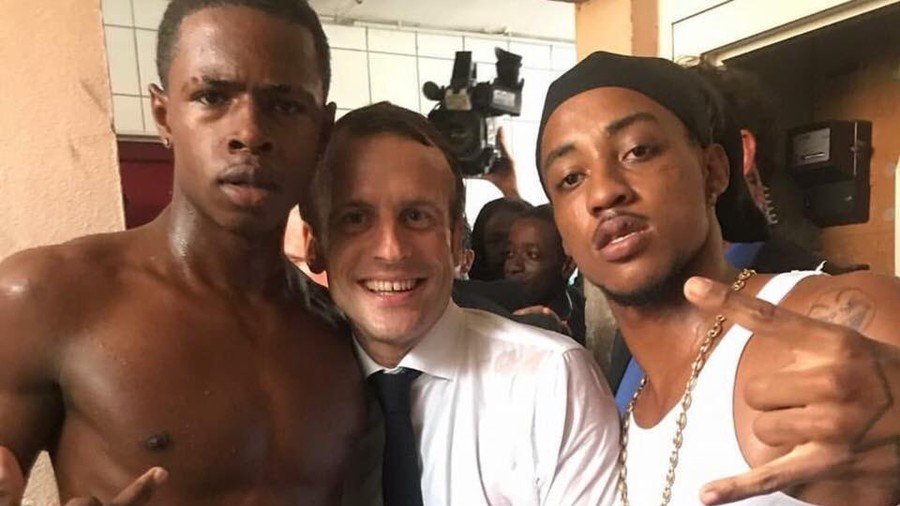 French public is angry with Emmanuel Macron after the cheerful President posed for photos with young men at Saint Martin, one of whom showed the middle finger to the cameras.
The controversial pictures were made during Macron's visit to the Caribbean island, devastated after hurricane Irma last year.
The French leader was followed by a host of photographers as he walked for five hours, despite sporadic rain, entered homes and talked to the locals about their life and rebuilding after the tragedy.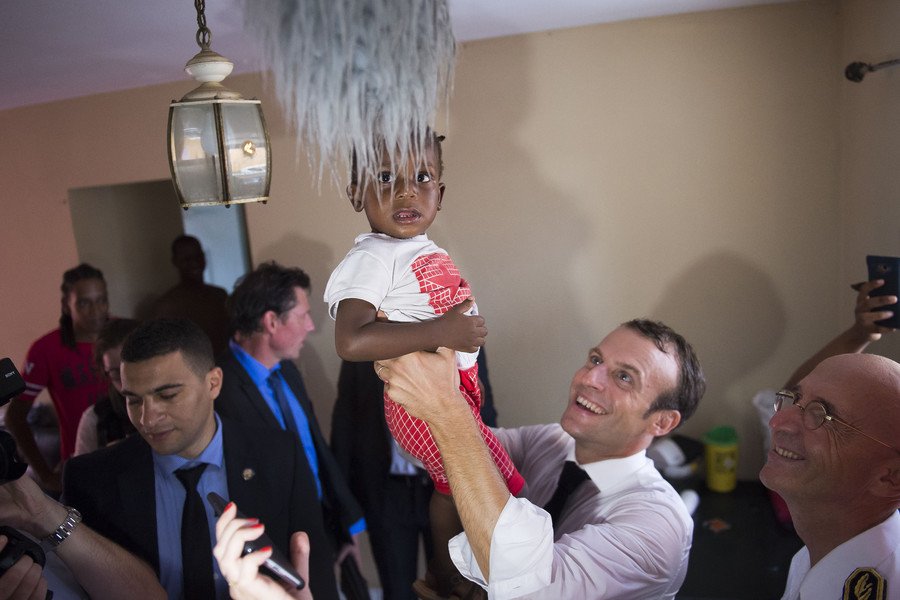 The reconstruction seems far from over at Saint Martin, with many houses remaining half-built or in need of repairs.
Inside one of the houses, Macron came across two bare-chested young men wearing bandannas on their heads. One of them told the French leader that he was a "robber" and was recently released from prison.
The president wasn't at all perplexed by such confession as he told the guy that he should leave his criminal past behind and take part in reconstruction.
He then went on hugging the men and posing for photos with them as one showed a middle finger.
The opposition in France was quick to repost the photo and used the embarrassing moment as chance to grill Macron.
Many on twitter lamented that Macron is embarrassing the country, adding to the disastrous Benalla affair a "finger affair."
Top classe le doigt d'honneur ! Les pays étrangers & la presse vont bien se marrer ! Après l' #affairebenalla qui a écorné l'image présidentielle & la France, on aura l'affaire du doigt d'honneur. #Macron a 1 peu de Trump en lui qd il communique. Notre président est 1 catastrophe pic.twitter.com/qVx1oLQYLq

— hadreb (@hadreb) September 30, 2018
Others noted that people in the region devastated by the hurricane expect help rather than selfie opportunities.
Le sort des habitants de Saint-Martin, nos compatriotes abandonnés par l'Etat depuis 1 an suite à l'ouragan Irma, me choque plus encore. Les habitants n'attendent pas des selfies mais la reconstruction. Pour la photo, chacun savait déjà que M. Macron est l'égal de M. Hollande...

— Julien Sanchez (@jsanchez_rn) September 30, 2018
The French president later defended his actions by saying that his goal was to help all of the Saint Martin youth. "I love every child of the Republic, no matter how stupid he is," he explained.
Irma became the most devastating hurricane to hit Saint Martin in over a century, with the damage to the French side of the island estimated at over $1.4 billion by Paris. Homes were destroyed, cars tossed around, with the island's deep sea port and airport also heavily hit. Saint Martin's main income provider, the tourism industry, also suffered a major blow.
Think your friends would be interested? Share this story!
You can share this story on social media: