Putin compares Khashoggi case to Skripal poisoning, asks why Russia condemned despite lack of proof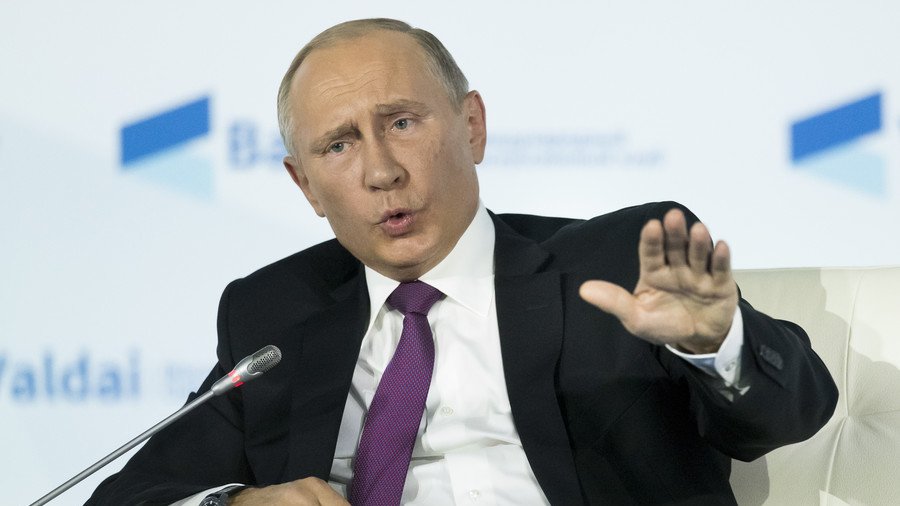 Russian President Vladimir Putin has contrasted the world's response to the disappearance of Saudi journalist Jamal Khashoggi with its response to the poisoning of ex-Russian spy Sergei Skripal, citing lack of proof in both cases.
Speaking at the annual Valdai Discussion Club in Sochi, Putin said that despite a lack of evidence proving Russian involvement in the poisoning of Skripal and his daughter Yulia in March, punitive actions were immediately taken against Moscow. In contrast, he said, that did not happen with Riyadh following Khashoggi's disappearance.
"There's no proof in regards to Russia, but steps are taken. Here, people say that a murder happened in Istanbul, but no steps are taken. People need to figure out a single approach to these kinds of problems," Putin said.
Khashoggi, a journalist who wrote columns that were critical of the Saudi kingdom for the Washington Post, disappeared on October 2 when he entered the Saudi consulate in Istanbul to obtain documents for his planned marriage to a Turkish citizen.
Despite Turkish authorities pinning the blame for Khashoggi's alleged murder on Riyadh – claiming to have video and audio proof to back it up – the US has been reluctant to point the finger at the Saudis. US President Donald Trump even floated the theory that perhaps "rogue killers" were responsible for the journalist's disappearance. No such alternative explanations were offered following the Skripals' poisoning.
Asked whether Moscow would respond to the Khashoggi disappearance, Putin said Russia still did not have enough details to take any action. "Why do we need to take some steps towards the deterioration of our relations if we don't understand what is happening? But if someone understands and someone believes that the murder occurred, then I hope that some evidence will be provided," he said.
Trump has been accused by numerous analysts, journalists and politicians of advocating for Riyadh in order to protect the US' financially beneficial relationship with the Gulf nation. Many have cited Trump's business ties with Saudis dating back decades.
Trump & Saudi Business:•1991: Sold yacht to Saudi Prince•2001: Sold 45th floor of Trump World Tower to Saudis•Jun 2015: I love the Saudis...many in Trump Tower•Aug 2015: "They buy apartments from me...Spend $40M-$50M"•2017: Saudi lobbyists spent $270K at Trump DC hotel

— Fox News Research (@FoxNewsResearch) October 16, 2018
On the day that Secretary of State Mike Pompeo landed in Riyadh to discuss the Khashoggi case, $100 million was transferred to the State Department by Saudi Arabia – part of a long-planned contribution to help stabilize newly liberated regions of Syria. The US, however, denied that the timing of the transfer had anything to do with the diplomatic incident over Khashoggi's disappearance.
Turkish sources have leaked information to the press, including details from an alleged recording made of Khashoggi's murder, during which Saudi forensics expert Saleh al-Tubaiqi allegedly dismembered the journalist's body while his colleagues listened to music.
Saudi Arabia has denied claims of involvement. Trump has cast doubt over the existence of the tape, and said he plans to have a discussion with Pompeo following his fact-finding trip to Riyadh and Istanbul earlier this week.
READ MORE: 'Sawed while still alive'? Gruesome 'taped' details of Khashoggi's alleged murder cause media stir
When the Skripals were poisoned in the English town of Salisbury in March, British intelligence agencies swiftly accused the Kremlin of being responsible and sanctions were slapped on Moscow. British Prime Minister Theresa May led a chorus of international condemnation, expelling 23 Russian diplomats from the country and convincing the US and a slew of European countries to follow suit.
If you like this story, share it with a friend!
You can share this story on social media: